H&R Block's software is a solid contender in the crowded market for tax software. Though it's not the most expensive of the tax software providers we reviewed, H&R Block online tax software isn't the cheapest either.
Still, its free version is one of the best on the market, the interface is straightforward and easy to use and on-screen help from a human is available for an extra cost.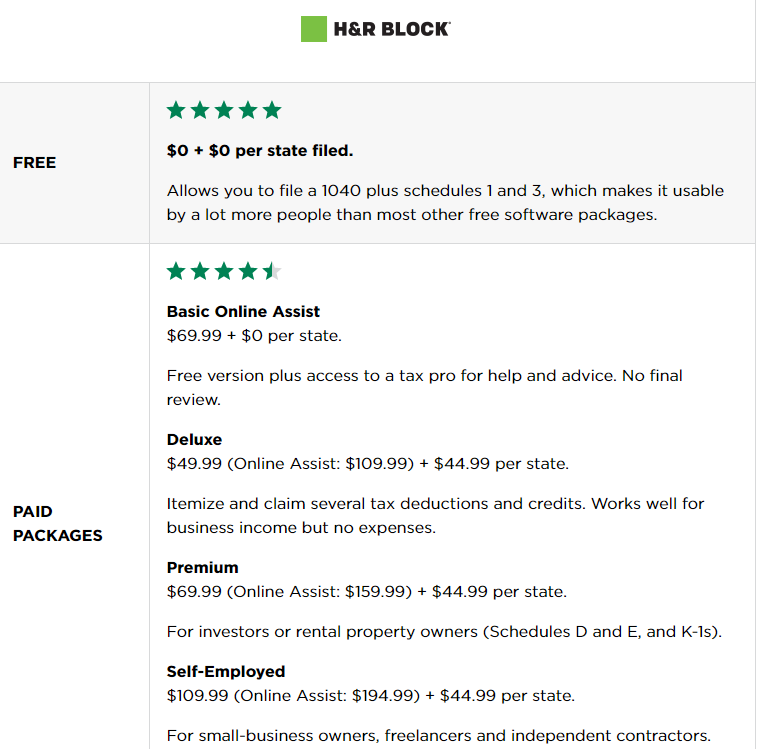 One note about prices: Providers frequently change them. You can verify the latest price by clicking through to H&R Block's site. H&R Block also offers desktop software, where your return doesn't reside in the cloud, but it's not part of our review.
H&R Block's prices
One of H&R Block's biggest pluses is its free version, which is better than most.
What you get from H&R Block's free version
Like the free tax software from most of its competitors, H&R Block Free lets you file Form 1040, take the earned income tax credit and reconcile your advanced child tax credit. It can handle unemployment income and help you to claim a missing stimulus payment.
H&R Block's free version also lets you file schedules 1 and 3 of Form 1040, which is a big bonus because many taxpayers need to file those forms to report things such as deductible student loan interest, certain retirement contributions, alimony, the lifetime learning credit and the saver's credit. You may need to upgrade if you don't know how much to claim for those things and want the software to calculate it for you.
While H&R Block's free version has expanded capabilities, if you plan to itemize deductions, were a landlord, freelanced, sold cryptocurrency, contributed to an HSA, ran a small business or had any other situations going on, you'll probably need to upgrade to one of H&R Block's paid packages.
H&R Block's Ease Of Use
What it looks like
H&R Block's interface is visually simple, straightforward and easy to use, and it steps up to explain concepts as you go. Skipping around to specific spots can be a little tricky, but a banner across the top keeps track of where you are in the filing process.
Embedded "learn more" links provide more information without having to wander around, the help menu is visible from all pages, and you can click to access the chat support portal throughout.
A price preview button up top tells you which package you're buying, whether you've also selected add-ons, and how much your total software bill is so far.
Handy features
You can switch from another provider: H&R Block can import last year's return from a TurboTax data file or from a PDF of your tax return from any provider.
Auto-import certain tax documents: You can import your W-2 from your employer or upload a photo of it, which lets you avoid time spent keying in numbers from little boxes. You can import many kinds of 1099s, and the Self-Employed version also lets you import your 1099-K or 1099-MISC directly from Uber if you have a driver's account.
Note: Several Charles Schwab customers have reported issues with H&R Block's automatic 1099 import feature. Per the company, the import issue has been resolved as of March 17.
Donation calculator: The Deluxe, Premium and Self-Employed packages also integrate DeductionPro, which helps calculate the deduction value of donated clothes, household items and other objects.
Platform mobility: Because the software is online, you can log in from other devices if you choose to work on your return here and there. There is also a mobile app available.
H&R Block's support options
Here's a look at the various ways you can find answers and get guidance when filing your return with H&R Block.
Ways to get help
General guidance: Searchable knowledge base, video tutorials.
Tech support: Free chat or phone tech support.
One-on-one tax help: Live, on-screen help from a tax pro is available if you buy the Online Assist versions; you can also buy access to Tax Pro Review, where a tax expert will review, sign off, and file your return for you.
Two notable support offerings from H&R Block are Online Assist and Tax Pro Review.
The Online Assist version of H&R Block's packages gets you unlimited, on-demand chat or screen-sharing sessions with a certified public accountant, enrolled agent or other tax expert at any point while preparing your return. (You can see them; they see only your screen.) The tax pro will not review, sign or e-file your return for you, though.
H&R Block's Tax Pro Review offers a one-on-one review of your completed return with a human tax pro who will go over your documents and check for accuracy and possible missed deductions or credits; if you want, the tax pro will also sign and e-file your return for you. The cost runs from $49.99 to $89.99, and the review usually happens within three days.
H&R Block also has another option: an enormous band of human tax preparers at the company's 10,000 or so offices around the world. Help at brick-and-mortar stores isn't free, of course (in-office appointments start at $80), but it helps to know you can go there if you get confused or stuck.
Not all of H&R Block's tax pros are CPAs or enrolled agents, but the company says they undergo over 60 hours of training and complete an additional 30-plus hours of annual training to get ready for tax season.
If you're audited
Getting audited is scary, so it's important to know what kind of support you're getting from your tax software. First, be sure you know the difference between "support" and "defense." With most providers, audit support (or "assistance") typically means guidance about what to expect and how to prepare — that's it. Audit defense, on the other hand, gets you full representation before the IRS from a tax professional.
H&R Block offers free audit support, but you also can buy a product called Worry-Free Audit Support. This gets you contact with an enrolled agent to guide you through an audit. It includes IRS correspondence management, audit preparation and in-person audit representation, and it costs $19.99.
You could also add Tax Identity Shield for $19.99, which provides personal assistance if it turns out criminals used your personal information to file a fake tax return.
If you're Getting a Tax Refund
No matter how you file, you can choose to receive your refund in several ways:
Direct deposit to a bank account.
Existing H&R Emerald Cardholders can load refunds onto their cards.
Loaded onto an Amazon gift card (3% bonus).
Spruce mobile banking.
Paper check.
Apply the refund to next year's taxes.
Direct the IRS to buy U.S. Savings Bonds with your refund.
You have the option of paying for the software out of your refund, but there's a $39 charge to do so.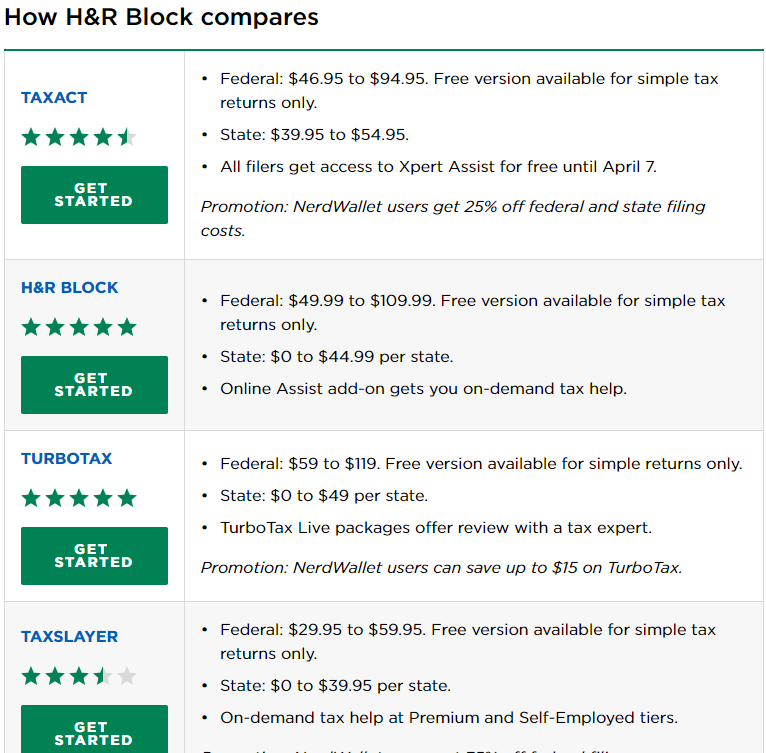 The bottom line
H&R Block offers several filing options and is a solid competitor against TurboTax. If you want to file your taxes online, but would feel better knowing you can run to a human at a desk in a brick-and-mortar office if you get stuck, H&R Block stands alone.