When it's time to look for a web host, there's a dizzying array of options available. Unfortunately, many of these look enticing, but they don't offer much for functionality or support.
Then, there are the options that provide all of the bells and whistles, sometimes with so many choices that new users can feel overwhelmed.
That's why it's helpful to have players like iPage in the marketplace. They're the not-too-big, not-too-small web host that might be the perfect size for your personal or small business website.
You won't find a lot of flashy extras here, but you will get decent uptime and sufficient options to build yourself a functional and attractive website. With e-commerce capabilities, you can even make your dream of becoming an online retailer a reality.
This web host can help you to register your domain name and build your website, making them sort of a one-stop-shop for getting your website online. Their prices are pretty affordable too, making iPage worth a deeper look when you're searching for a web host.
Pros
Inexpensive hosting options
Choice of shared, VPS, dedicated or WordPress hosting
Enhanced security options available
30-day money-back guarantee
Decent customer support
Recent uptime numbers of 99.97 percent
Cons
Page load times are pretty slow
There's a big jump between introductory and regular pricing
Domain names are pretty costly
More About iPage
Founded in 1998, iPage is now the host to over one million websites based around the world. The company has two technology centers which the website describes as "world-class."
Also drawing from the main iPage website, the company appears to emphasize the human element in a tech-heavy industry. If you're looking for a web host that is likely to offer you a personalized touch when you reach out for help, this may be the right choice for you.
Additionally, iPage appears to focus on small business websites. They claim to make getting online quick and easy, even for people who have never built or published a website before. All of this is offered at affordable prices and with a 30-day money-back guarantee.
Overview of iPage Web Hosting
One of the most notable things about choosing iPage as a web host is that it is remarkably inexpensive. Of course, to get the cheapest possible pricing, you may have to sign up for three years of service, which can be a tall order for a webmaster with a brand new idea.
That said, it also is worth noting that there is a pretty steep jump up in pricing when the introductory pricing period comes to an end. You may want to remember to check out iPage's current pricing before you get stuck paying a much more expensive rate. It may be worthwhile to change web hosts at this point.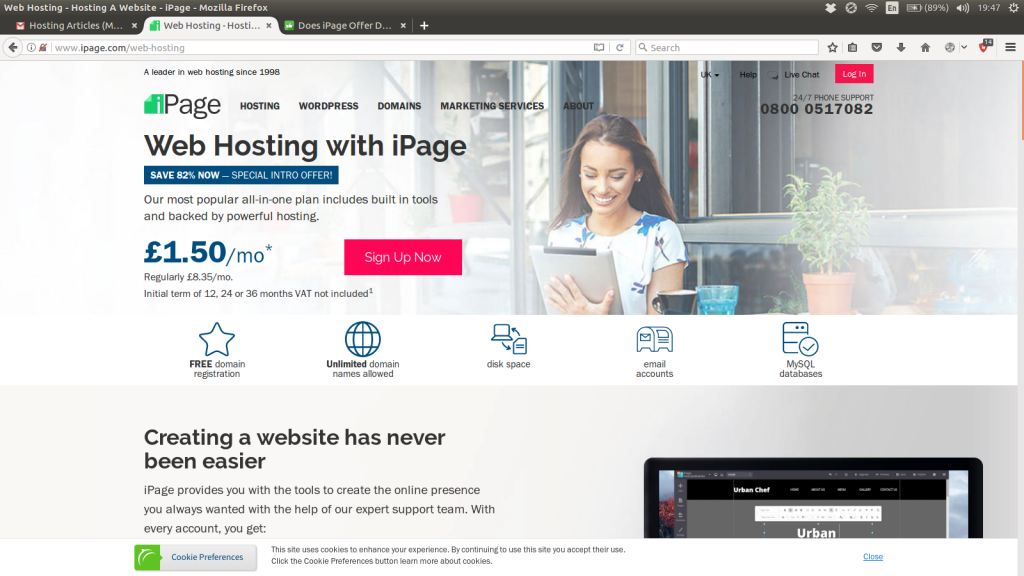 Aside from pricing, iPage features some pretty solid offerings. All packages come with one year of domain registration for free. That's an AU$15 value, so it's nothing to overlook. Having said that, AU$15 is fairly expensive for a domain name, and you can probably find cheaper alternatives out there.
With most packages, you get an SSL certificate and an email address along with a nice share of bandwidth and disk space. If you're looking for open source apps, you're in luck. iPage is compatible with Drupal, Joomla, WordPress, b2evolution, PixelPost, Gbook and plenty of others.
People who are seeking online retailer capabilities may be happy with iPage's offerings. You can choose from Zen Cart, OSCommerce, OpenCart, TomatoCart and more, and integrating with PayPal is a snap.
Lots of Additional Features Added
Additionally, iPage has a drag-and-drop website builder that includes six pages. You'll discover a few hundred different themes from which to choose. The options are not as sophisticated as those provided by other website builders, but you may find them perfectly adequate for your purposes.
If you do try iPage and decide that it's not for you, then you may be able to take advantage of the 30-day, money-back guarantee. The company promises to ask no questions if you decide to go this route. Your hosting money will be refunded. However, keep in mind that if you paid for additional services, these may not be refundable. This includes domain name registration, which may leave you paying an AU$15 fee.
iPage Web Pricing
In recent years, iPage has expanded its hosting options. Where they once offered only a one-size-fits-all hosting plan, they now provide shared, VPS, dedicated and WordPress hosting. For even more customization and options, the VPS, dedicated and WordPress hosting plans are available in various tiers.
Basic iPage Web Hosting
We love data. Perhaps a little too much.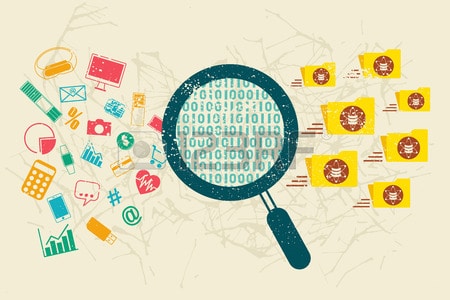 Because of that, I'm going to base this review on the numbers we've collected over the past few years. If you also like numbers, you're in for a treat. If you don't, you should.
Here's why. If your web host is anything other than terrible, you're going to forget who they are because you should never need to talk to them. Unless the server goes down, you're not going to need customer service.
And since you hardly ever visit your website from a normal connection, it's also almost impossible for you to assess how fast it is. That's where we come in.
With that in mind, here is what I'll do in this review:
Have a look at IPage's uptime, speed, and reliability. Meh.
Then more numbers! Yay! But this time, we'll look at iPage's pricing, which is also nothing to write home about.
In the end, I'll compare IPage to some good web hosts, so you can see the difference between average and good.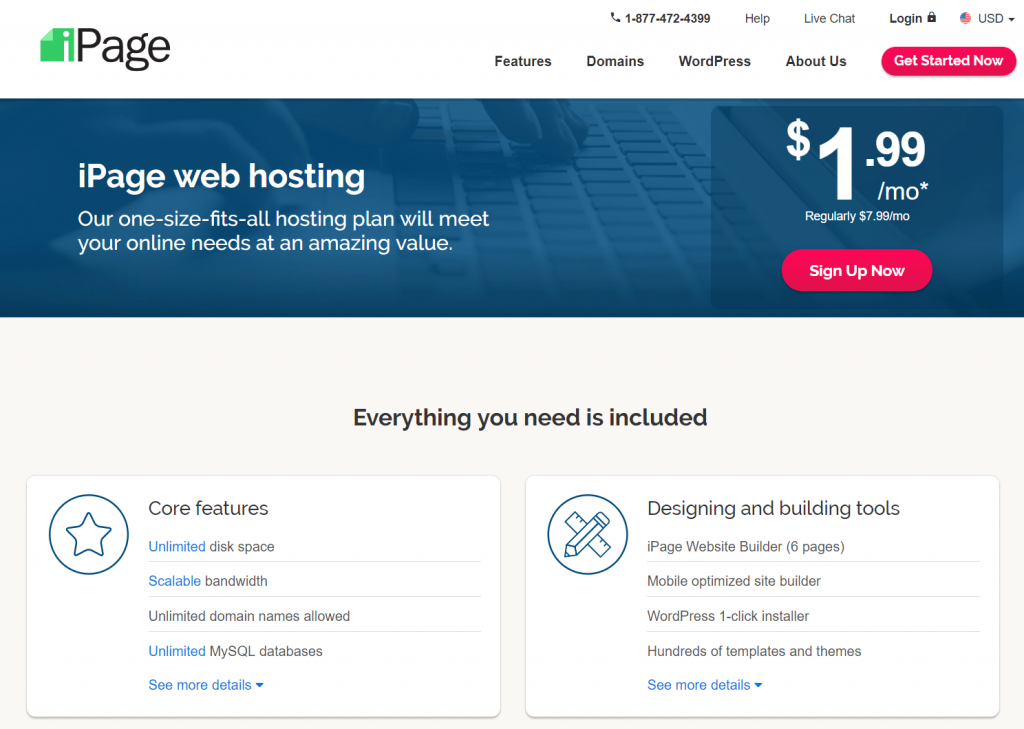 But first …
This is iPage's shared hosting option, one that they continue to refer to as a one-size-fits-all package. It's Linux based, and you can purchase the plan for as little as AU$2.95 per month for the first year. After that, you'll be subject to the regular AU$10.95 rate.
For your money, you'll receive unlimited disk space and scalable bandwidth along with no limits on the number of domain names you'd like to have. With unlimited MySQL databases, a free SSL certificate and a free domain for one year, this is a fairly good value.
Also included in the plan is access to iPage's website builder in addition to the WordPress 1-click installer. You'll have hundreds of themes and templates from which to choose as well as all sorts of tools for blogs, photo galleries, and forums.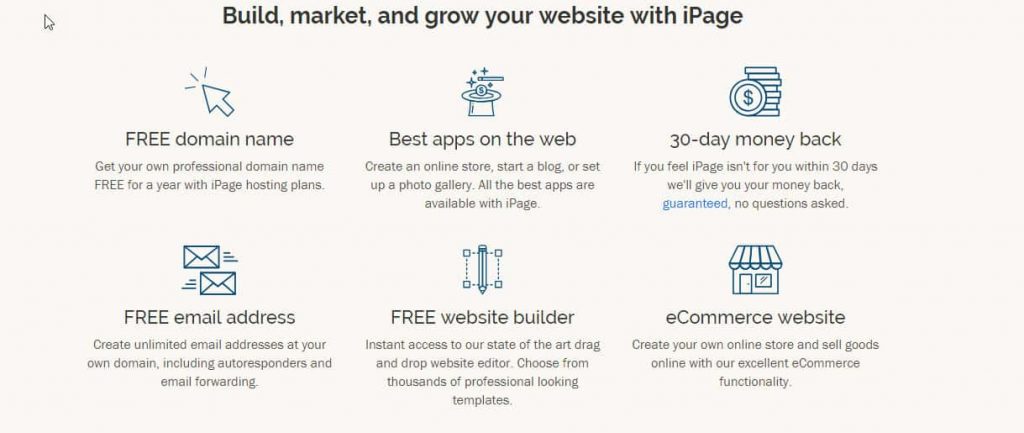 This plan also may work for you if you plan to do any online selling. It comes with a free online store that can be integrated with PayPal. Several of the most popular online shopping carts also are a part of the package.
Further, this package features the ability to send and receive an email at your domain name. Capabilities in the email program include spam filters and virus checking. With 24/7 network monitoring and customer support, you can trust that your website will be getting the attention that it deserves.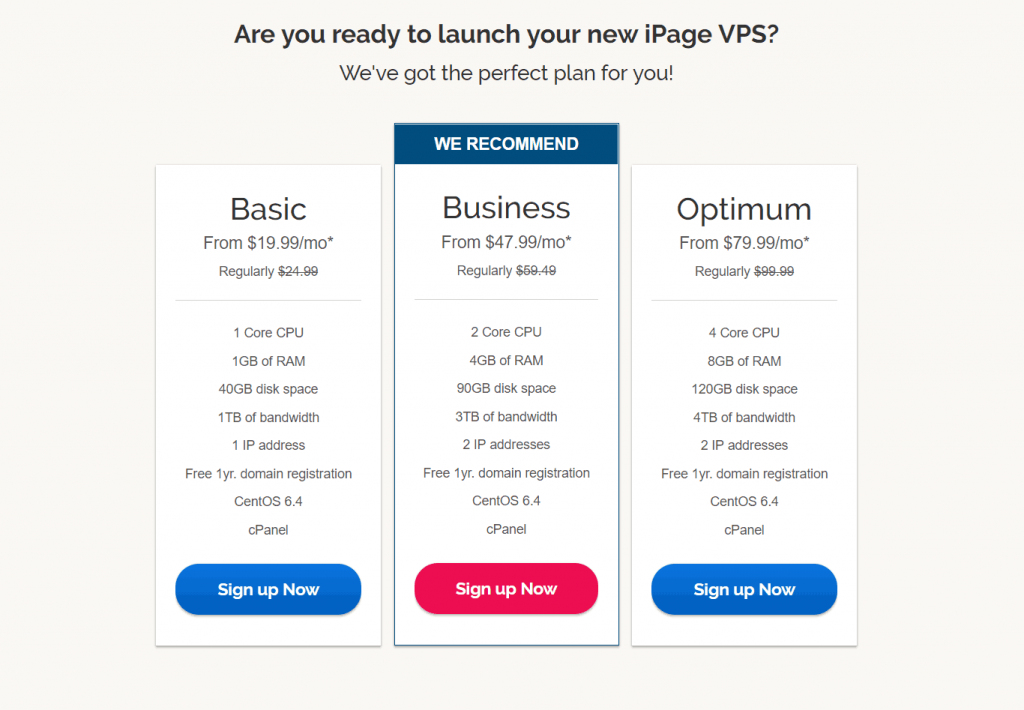 Virtual Private Server, or VPS, hosting is ideal for webmasters who expect a great deal of traffic or who are barred from using a shared server. A VPS hosting plan is a nice, middle-of-the-road option that provides better security and services than shared hosting but isn't quite as expensive as dedicated hosting.
VPS hosting from iPage is available at three different tiers.
Basic
The Basic package can be purchased for the first year at AU$19.99 per month, although the regular price is AU$24.99 per month. For that price, customers receive one core CPU, one GB of RAM and 40 GB of disk space.
Additionally, the one TB of bandwidth, free domain registration for a year, CentOS 6.4 and cPanel access make this a worthwhile and affordable option.
Business
The company highlights this plan as their "recommended" option for VPS hosting. The introductory rate is AU$47.99 per month, with the regular price being AU$59.49. Features included in this plan like two core CPUs, four GM of RAM, 90 GB of disk space and three TB of bandwidth may make the extra expense worthwhile.
Additionally, this package comes with two IP addresses, one free year of domain registration, CentOS 6.4 and cPanel access.
Optimum
The Optimum plan is iPage's most robust offering for VPS hosting packages. For an introductory price of AU$79.99 per month, customers get four-core CPUs, 8 GB of RAM, 120 GB disk space, four TB or bandwidth, and two IP addresses. One year of free domain registration, CentOS 6.4 and cPanel access also are included. The regular price of this plan is currently AU$99.99 per month.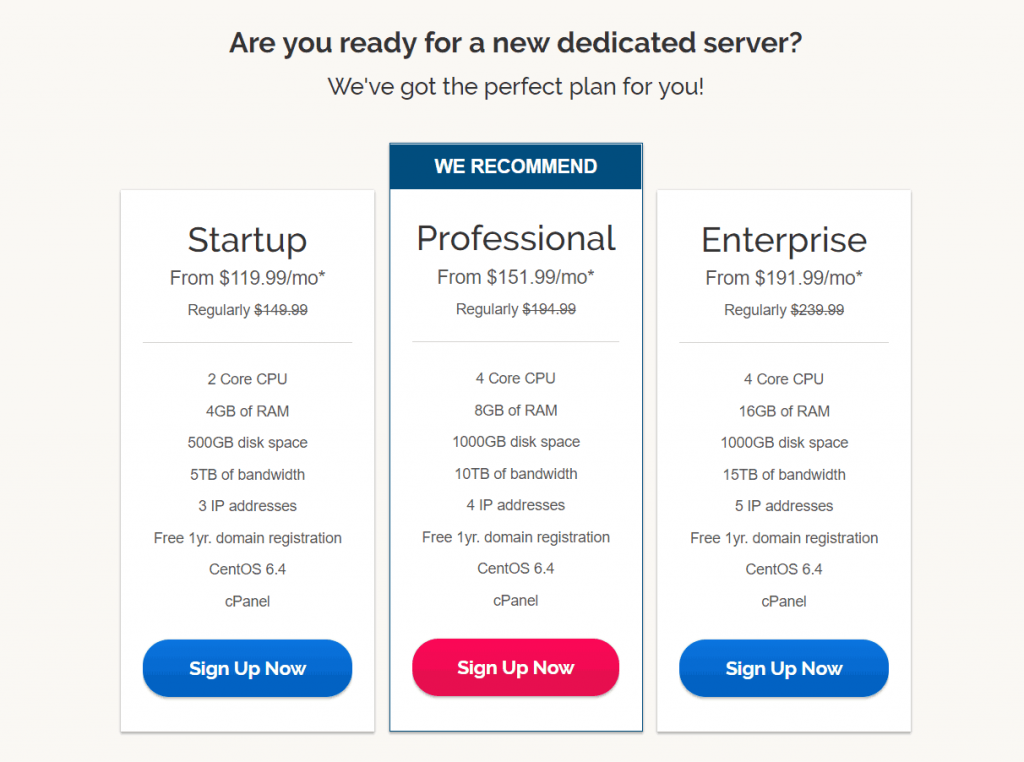 When you expect your website to see considerable traffic and you demand the best in security, customization, and options, then it is probably time to upgrade to dedicated hosting.
This company makes this fairly easy with its three package options.
Each of these packages includes cPanel access, CentOS 6.4 and one year of domain registration for free.
The main advantage of choosing a dedicated web hosting over the other options is the ability to completely customize the server with any software that you want to use.
You also have the peace of mind of knowing that all of the server's resources are dedicated to the optimum functionality of your website. Moreover, it would be difficult to find better security than what is provided by a dedicated host.
Startup
Just as the name implies, the plan is for the company that's still getting on its feet. The introductory price is AU$119.99 per month, with a regular price of AU$149.99 per month. For this price, customers receive two core CPUs, four GB of RAM, 500 GB of disk space, five TB of bandwidth and three IP addresses.
Professional
As for iPage's "recommended" option for dedicated hosting, the Professional package offers some nice upgrades from the Startup package. Now, you get four-core CPUs, eight GB of RAM, 1,000 GB of disk space, 10 TB of bandwidth and four IP addresses for the introductory rate of AU$151.99 per month. The regular price on this package is AU$194.99 per month.
Enterprise
The Enterprise package is available for entrepreneurs who have websites that are rapidly expanding. Like the Professional plan, this one comes with four core CPUs. However, this package further boasts 16 GB of RAM, 1,000 GB of disk space, 15 TB of bandwidth and five IP addresses. For a company requiring this level of service, neither the introductory AU$191.99 per month nor the regular AU$239.99 per month price is an outrageous option.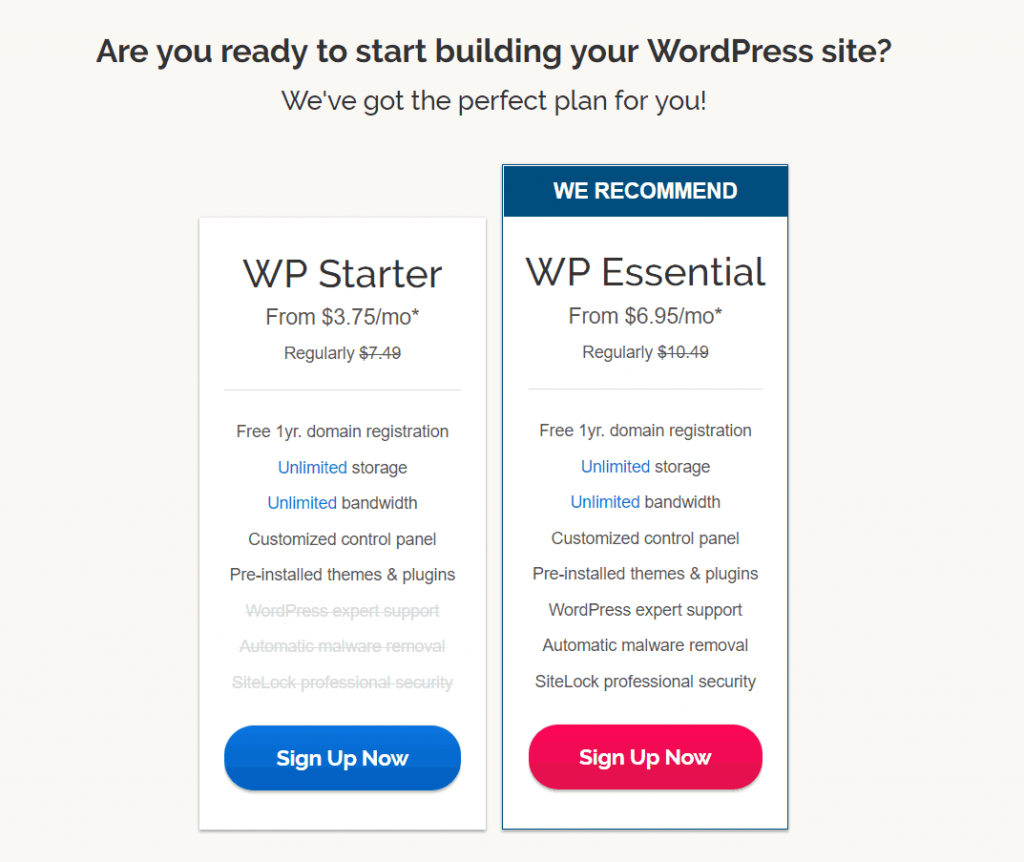 For some webmasters, there is no better choice than WordPress.
However, this incredibly popular content management system works better when it runs on a WordPress-specific host.
Recognizing that millions of people the world over choose WordPress when it's time to build a website, iPage has designed two hosting packages just for this CMS.
WP Starter
With an introductory price of just AU$3.75 a month and a regular price of AU$7.49 per month, this is an affordable option for any webmaster. This plan comes with one year of free domain registration, unlimited storage, unlimited bandwidth, a customized control panel, and pre-installed plug-ins and themes.
WP Essential
The WP Essential is the more deluxe option at AU$6.95 per month for the first year and AU$10.49 per month as the regular price. In addition to the features that are included with the WP Starter package, the Essential package includes WordPress expert support, SiteLock professional security, and automatic malware removal.
How Do iPage's Plans Stack Up to the Competition?
Overall, iPage offers some fairly comprehensive packages that may be entirely suitable for your personal or business website. This does not mean that you can't do better.
There are web hosts out there that simply offer more for your hard-earned money. That is more bandwidth, more storage, more memory and a broader selection of customization options. The upshot is that while iPage certainly isn't terrible, it's also not the best available. Still, iPage remains a "good enough" option for many webmasters.
iPage Customer Support
Customers who choose iPage as their web host have access to telephone and web chat support on a 24/7 basis. Both of these options were tested during this review.
A weekday phone call with a basic question about iPage's web hosting options elicited a clear and concise answer. Similarly, a webchat required less than a two-minute wait to have a question answered. The tech who replied responded with a knowledge database article that contained the necessary answer.
The Upshot
With iPage, you get basic web hosting that covers the important bases. Just don't expect any flashy extras.
To find a couple of other options read our guide to best Australian web hosting. If you have any experience with iPage feel free to drop a review below on this page and we'll post it.
Thanks for stopping by everyone.