Hostinger is best known for its affordable prices and wide variety of features, but it does have some drawbacks worth considering.
Looking for a hosting provider can feel like a daunting task. There are so many options out there, and they all look pretty similar on the surface.
But our team has done the deep digging to uncover the strengths and weaknesses of each provider.
Overall, yes – we do recommend Hostinger if you're after cheap hosting that still performs. It has great WordPress onboarding, provides both Windows and Linux hosting, and offers support in multiple languages.
Hostinger isn't for everyone, though. The main problems with Hostinger are its poor uptime, and the fact it doesn't offer dedicated hosting.
Pros of Using Hostinger
Unlimited or free services don't mean anything if your site can't stay online.
Our site with Hostinger had fast speeds, great support, and more.
Let's see what else they excel in.
1) Fast Load Time – 356 ms
Fast page loading times are vital for any website user's experience with a site.
Have you ever tried to open a web page only to get stuck waiting for the site to load for what seems like ages?
We all have.
Moreover, you probably didn't stick around for long. If a website takes more than three seconds to load, 30%+ of people abandon it.
Hostinger boasts servers in the USA, Asia, and Europe (UK). Each is reportedly connected to a 1000 Mbps connection, which ensures that loading times are stable.
How did they fare in our tests?
Hostinger delivered an average page loading time of 356 ms over the past 12 months.
Hostinger Page Speed Apr. 2020 – Mar. 2021
Hostinger average speed | See stats
Even though they have shown slower speeds this year, they're still faster than most of the other hosts we've reviewed.
2) 30-Day Money-Back Guarantee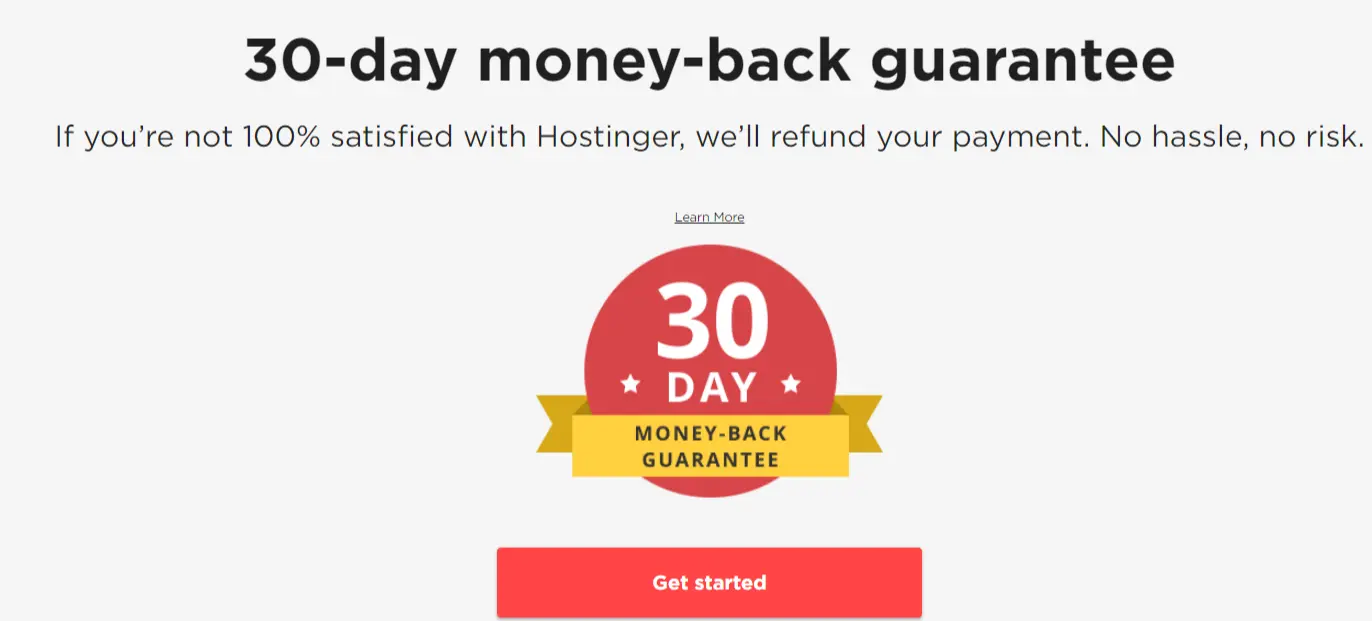 Hostinger offers tons of different payment options like Visa, Paypal, Mastercard, Discover, Bitcoin, Maestro, American Express, and JCB.
They also offer a 30-day money-back guarantee. So you can try them out and get your money back if the performance or experience is sub-par.
Be aware that not all products are refundable, and some products have special refund terms, according to Hostinger's Refund Policy. We'll save the details for the cons section below.
3) Multilingual Customer Support
Customer support can either make or break a web host.
If your site is down for some reason and you're unable to get in touch with a customer support person ASAP, you might lose out on a ton of sales.
Hostinger doesn't disappoint. The company offers a multilingual customer support team, live chat, and they integrated Intercom as their main support system.
Live chat is only accessible if you're logged into a Hostinger account, though. We're glad that Hostinger offers live chat, but it would make more sense if they offered it to everyone.
Accessing the live chat is extremely easy. Once you've logged in there is instantly an icon in the bottom right corner of the page.
We asked some technical questions and got knowledgeable replies backed up by links from the customer support rep.
However, it took a while to get the replies (they had an approximate 30 minutes waiting time…)
Hostinger live chat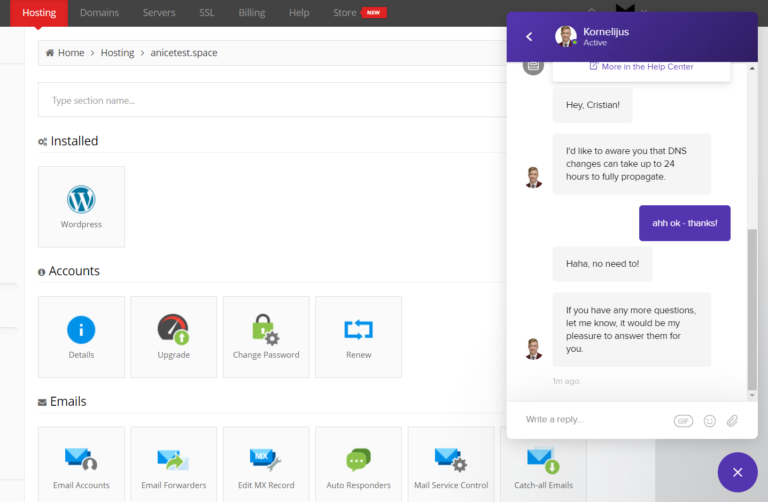 Hostinger also has a huge knowledge base with articles that are short and comprehensive, and you can find guides, information, and answers to questions by yourself. They also have tutorials (everything from website building to SEO) that include gifs and images on how to do things.
Users can search for articles or choose between three categories in the knowledge base:
4) Free Website Builder and Domain Name
Hostinger includes a free website builder (although the popular website builders are better) in their services with any plan you choose. There are tons of different templates to choose from, too.
Hostinger website templatesOnce you've chosen a template, you can customize everything on your pages using the Hostinger website builder.
In addition to the website builder, free domain names are also available with Premium and Business web hosting plans, which will save you a bit of money in the long run.
If you need more than one domain, you will have to pay extra. More on that later.
5) Easy to Use Interface
Hostinger offers a modern, easy-to-use interface where you can find everything you need in one location.
That way, you can track logins, update billing information, manage your domains, and monitor emails from your dashboard.
The control panel isn't a traditional cPanel, but large icons make it simple to find exactly what you need and when you need it.
Hostinger dashboardSome advanced users might miss cPanel, but for beginners who are still finding their way around – this version is great for getting a website up and running.
6) Unlimited Features With Premium and Business Plans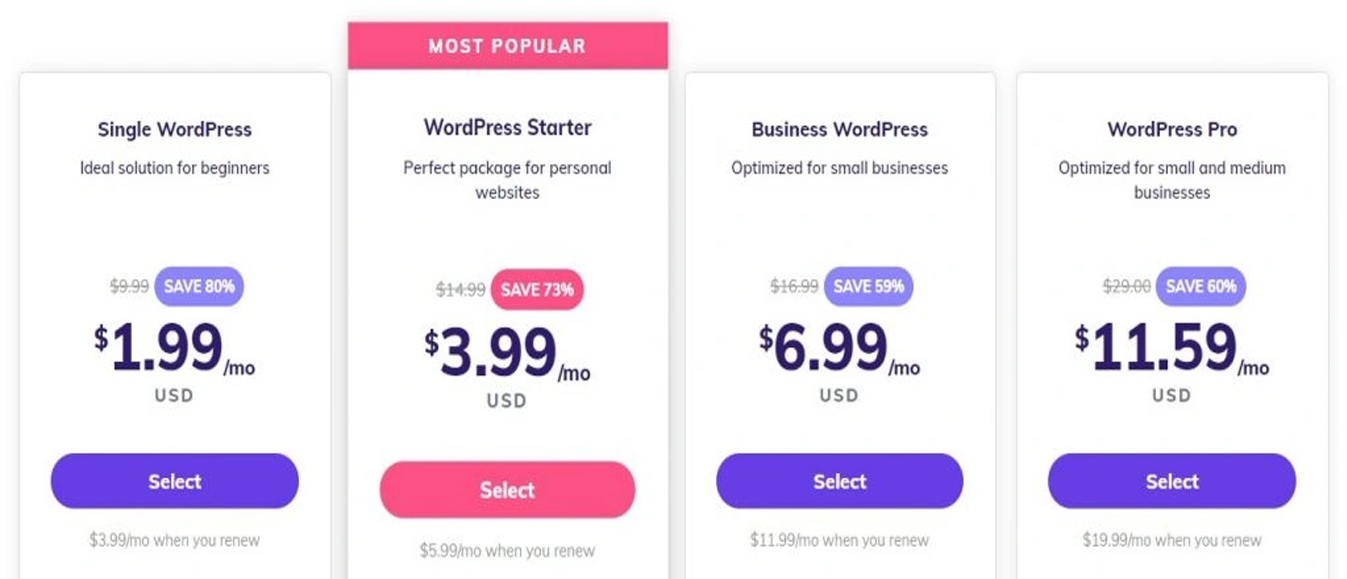 If you sign up for one of the top two Hostinger plans, you'll gain access to unlimited email accounts for free.
Managing those accounts right from the control panel means that there's no guesswork about spam filters, usage, and more.
You can set up autoresponders, enable or disable accounts, and forward emails sent to a customer's domain.
Bandwidth and databases are unlimited for most plans, the exception being the "Single Web Hosting" plan.
With the latter you'll be limited to 10GB of disk space, 100GB of bandwidth, one MySQL database, and one email account.
7) Industry-Standard Pricing Tricks but Still Affordable
Many web hosting companies promote their prices in a false light. Hostinger is one of them, but they are more transparent about it than many others.
For example, if you want to take advantage of the awesome $0.99 per month deal for Single Shared hosting, you'll have to commit to Hostinger for 48 months. After those 4 years, your renewal cost will jump up to $2.99/month.
If you're willing to commit to the same web host for four years, then it's an incredibly good deal for that amount of time. It could save you quite a lot compared to most other hosts.
Hostinger Billing Period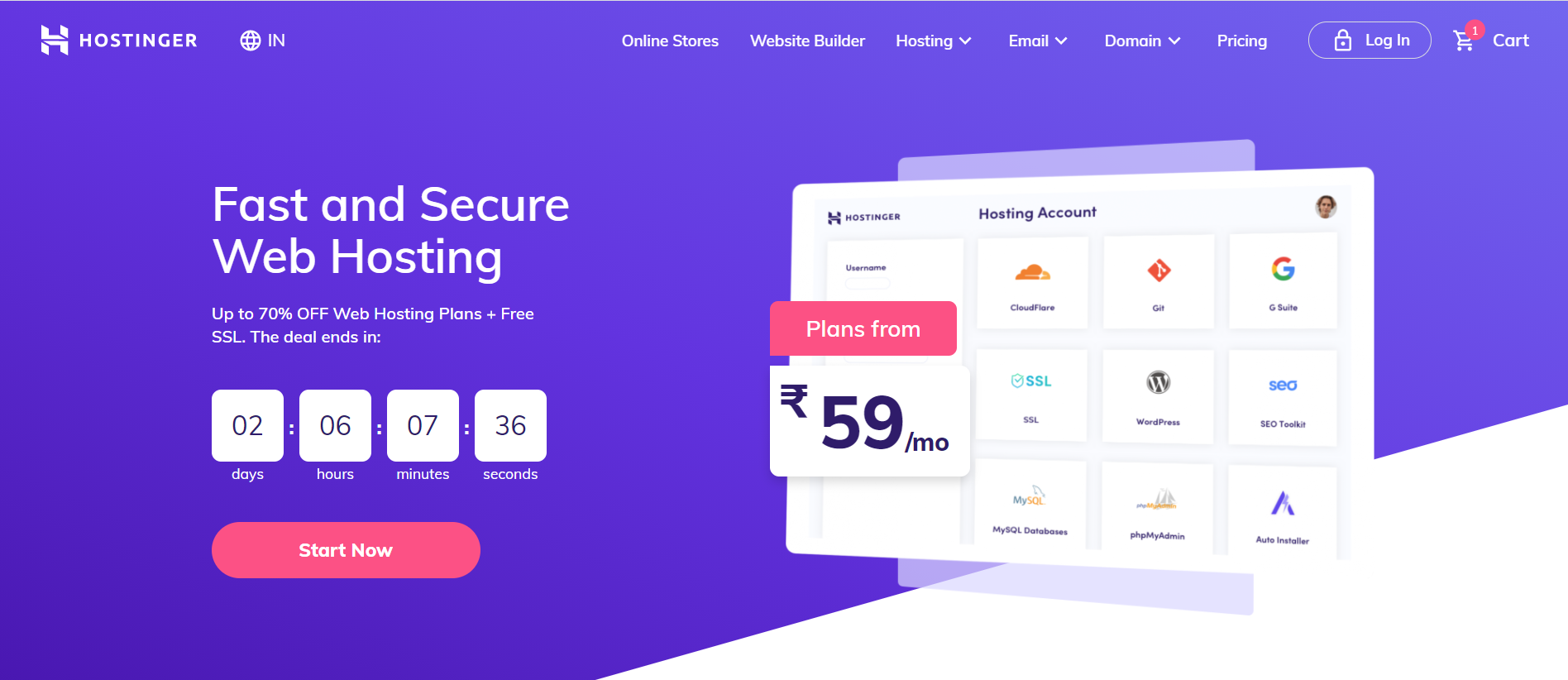 A low price usually means some compromises have been made in quality, but in Hostinger's case, the service they offer is actually quite good compared with most web hosting service providers.
Cons of Using Hostinger
There's a lot to love about Hostinger's loading speeds, support quality, and features.
Unfortunately, no perfect web host exists and Hostinger, like other hosts, has some flaws. The trick is figuring out which flaws you can live with and which ones are the deal-breakers.