In 1996, Matt Heaton first began to think about the hosting company that would eventually become Bluehost. Along the way, Matt created two other web hosting companies before making Bluehost a reality in the year 2003. Bluehost defined and then redefined what it meant to be a hosting company.
The first iteration of Bluehost was 0catch.com. This was a free hosting service that quickly became popular. There was a limit to the number of features the company could offer its clients. In 2003, the company took on the Bluehost moniker and from there started to provide clients with shared hosting plans.
Bluehost became popular quickly in part because of its ability to offer affordable plans. They offered their hosting packages with content management system support. One of the most popular features of Bluehost was the ability to install WordPress with just one click.
Bluehost set up a system whereby they were able to offer shared hosting plans using different price points. This was unique because regardless of if you were an individual opening a blog or a large company that needed more resources, there was a plan that was available to suit your needs and budget. Bluehost led the way in changing what hosting companies meant when they marketed their storage or their bandwidth is unlimited. In reality, the services they offer are limited, with the term "unlimited" being used to refer to the amount of space or bandwidth that a conventional user would need if they were operating a typical website.
Overall we think Bluehost is a great choice. They offer high-quality web hosting at reasonable prices and provide a solid support for new signups.
Let's jump into the review to better understand their pricing and plans. 
A Little Bluehost History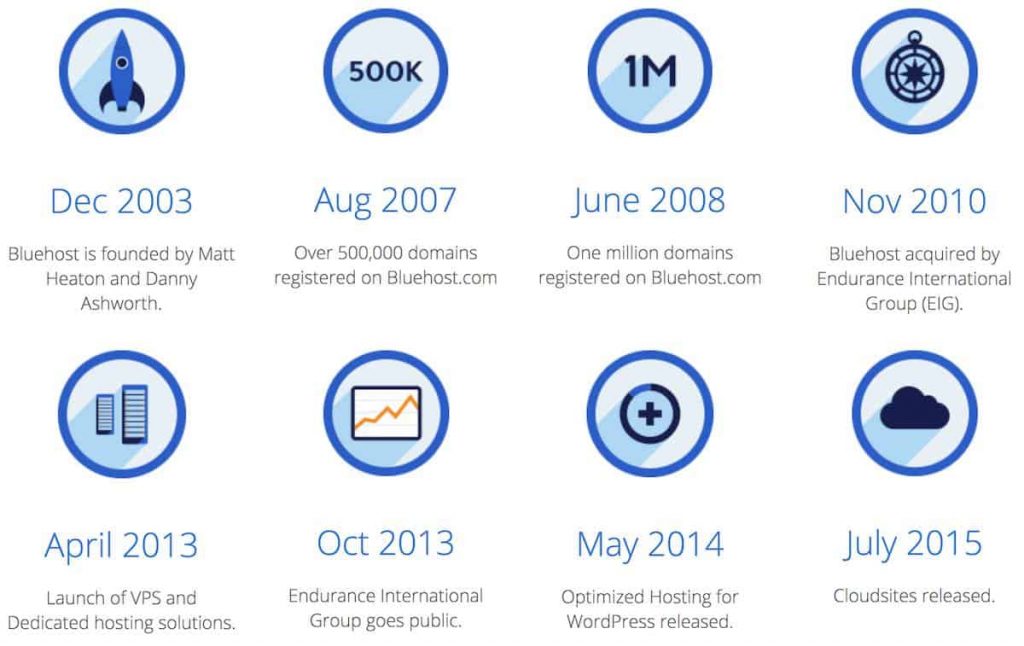 Bluehost became popular for offering their clients unlimited storage. However, if a person "abused" this privilege by storing mass amounts of data that had nothing to do with their website, then a limit would be placed on them. The same is true of those who used their website as a mass emailing device or those who used their site as a way of uploading or downloading large amounts of audio or video files. The idea behind these flexible caps was to keep one user on a shared server from using so many resources that it was detrimental to other users on the same server.
In 2009, Bluehost once again changed the game when it comes to how hosting companies interact with their clients. It was in this year that they decided to start throttling the CPU usage for some of their users. This was done because some users were putting a high demand on CPU resources and negatively impacting the experience of other users on the server. Inevitably, when the research was done, it became clear that the majority of the throttle websites were uploading or downloading information that usually should not be on a shared hosting account.
Purchased by the Endurance International Group
In 2010, Bluehost was purchased by the Endurance International Group. This group was founded in 1997. Its headquarters are located in Burlington, Massachusetts. Endurance International Group has purchased several hosting businesses. They have the practice of allowing the companies they have acquired to continue to operate under their name. This means that when you are choosing between purchasing a service from Bluehost as opposed to another hosting company, you could be choosing between two companies that are owned by the same parent company.
Bluehost Is Still Independent
Bluehost is administered by Endurance International Group. However, they still operate independently. When you purchase a service from Bluehost, you are getting something that is uniquely from that company. The services offered reflect Bluehost's long track record of being reliable, offering stellar customer service, providing low prices, and offering a variety of hosting options, including shared hosting, VPS, and dedicated hosting.
Now that we have a little bit of history about the company, let's take a few minutes and dive into some of the specifics about the services they offer and whether or not their services are right for you.
Things We like about Bluehost
When we put together these web hosting reviews, our goal is to give you an unbiased report. We try to transmit the information that reflects our personal experience and the personal experiences of our colleagues in interacting with this company. We are keenly interested in examining statistical data and presenting quantifiable metrics when determining the quality of a web host.
You can see our live Bluehost tracking here. Stats are updated 15-20 times per day. For more info check out our guide to best web hosting Australia.
99.9 Percent Uptime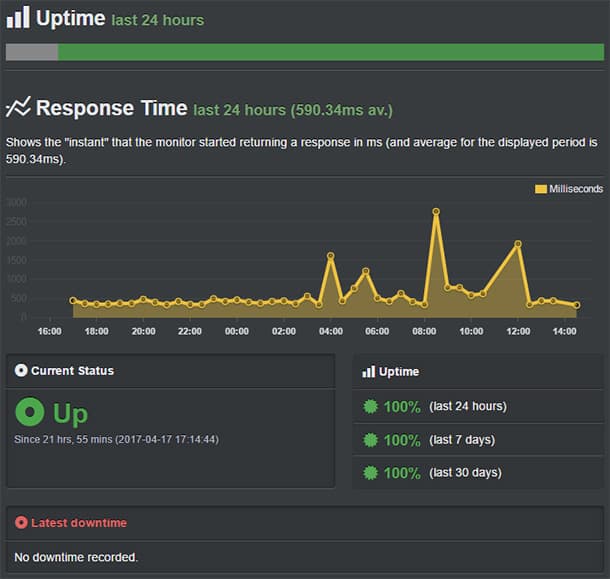 Not too long ago, Bluehost did a major overhaul on their servers. One of the noticeable results from their servers is their improved uptime. It is almost perfect. It is greater than 99.99 percent.
For 10 months, Bluehost managed to only have five outages. This meant that for 7,296 hours of service, there were only nine minutes of downtime. A couple of years ago, they were hit with a DDOS attack that affected their uptime.
However, if you look at their service from between December 2017 and September 2018, you see that they only had two months where their service was not up 100 percent of the time. During those ten months, their service was up 99.99 percent of the time.
Their Pages Load Fast

If you were to look at Bluehost's services in the early part of 2016, you would see that their speeds were abysmal. Their average speed was approximately 1500 ms. This meant that they did not rank among the top 10 fastest page loaders.
Jump forward to the year 2020 and you see a phenomenal improvement in their load times. Now, Bluehost has an average load time of 424 ms. This puts them in the top five fastest hosts we have reviewed.

When asked what led to this change, representatives of Bluehost said that this was part of their push to improve customer experience. To accomplish this goal they dedicated money and invested in their BlueRock server park. The results have spoken for themselves. Over 10 months, their fastest average speed was 399 ms and their slowest average speed was 467 ms. By any account, these are blazing speeds.
Low Introductory Price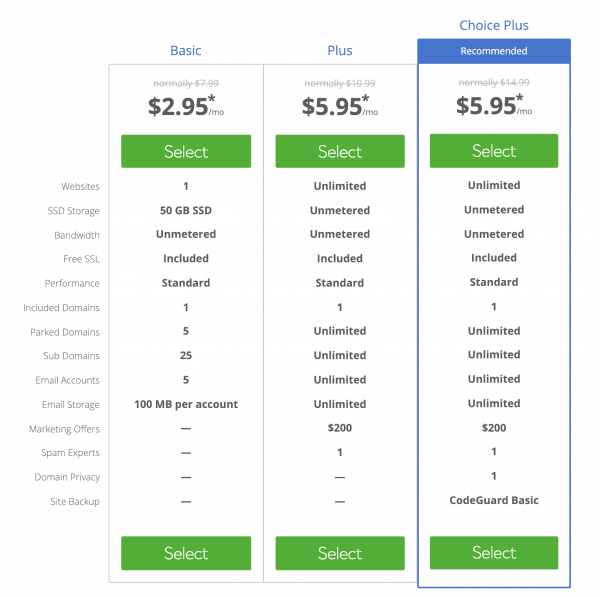 A couple of years ago, many people thought twice about using Bluehost. They felt that the service was too expensive and that it didn't have that extra something that made the price worthwhile.
However, in 2020, Bluehost keeps impressing us. They have impressive load times and impressive uptimes. At the same time, they offer their service at a reasonable price. It is fair to say that they are one of the least expensive web hosts on the market.
They offer an introductory price of as low as $2.95 per month, depending on the promotional deals you can find. You will indeed be able to find less expensive hosting options. However, when you look at the price, their improved servers, and their customer service, we feel that they are well worth the value.
BH isn't bad for your value but it doesn't make our list of best cheap hosts.
Lots of Free Security Features
The news is full of reports of major cyber-attacks and data breaches. This is why we were happy to see that Bluehost has a good array of security options. They have several tools that are specifically designed to address common attacks and risks.
For example, you can fight spam using Spam Experts, Spam Hammer, and SpamAssassin (pretty awesome names).
Cloudflare can save you from a directed denial of service attack.
If you have any quality content on your site, chances are that someone is going to try to steal it from you. This is why Bluehost offers hotlink protection that makes it impossible for people to steal your images and content using hotlinking. There are filters that you can use to block out specific email accounts, and Bluehost offers you the opportunity to block IP addresses.
You can password protect directories, create blacklists for IP addresses, enable two-factor authentication, use token validation, and use a whole host of other valuable security features. Bluehost can keep you and visitors to your website safe.
One thing to keep in mind is that BH will charge you for privacy protection whereas companies like Namecheap will not. This can help you save $20-50 every year. Check out our guide to the best domain registrars for more.
Refund Policy

Bluehost has a 30-day money-back guarantee. If you cancel your plan within the first 30 days, you would get a free refund. A word of caution, if you do not cancel within the first 30 days, you will not get a prorated refund for the time you have not used it. Also, remember that domain fees are nonrefundable.
Easy to Use
Bluehost has gone out of its way to make setting up your website and managing it easy for you. Their enhanced cPanel interface is as simple to use as it can be. By simply clicking on the appropriate icon, you can get where you need to go.
From cPanel, you can take care of things like email addresses and elements on your website from a central location. You can customize the layout of the control panel to meet your needs. You can edit things so that the features you most commonly use are the ones that are the most prominent.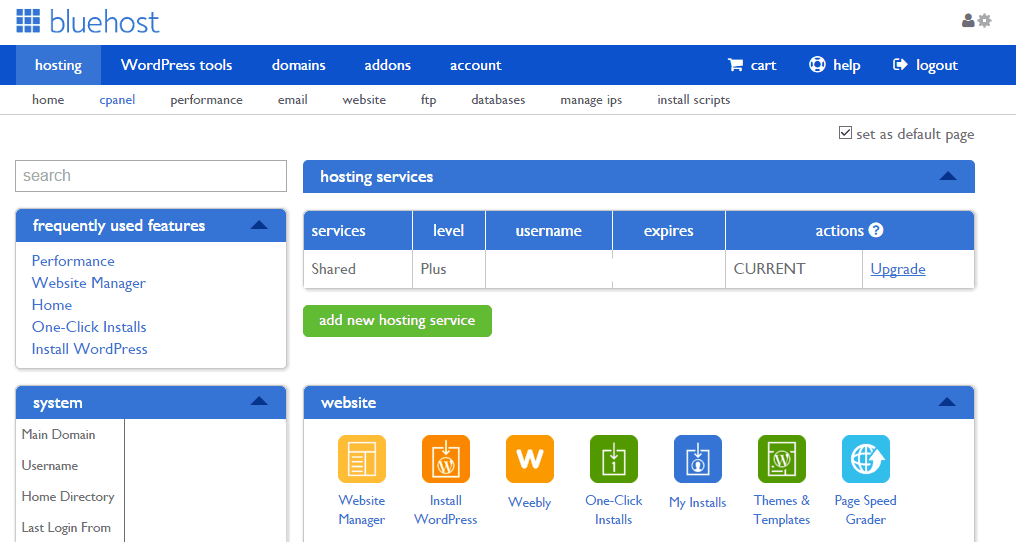 Recommended by WordPress.org

When you select a host for your website, you should take some time to learn the facts and figures about it. That being said, WordPress.org is the largest CMS on the planet. It runs millions of websites. If WordPress recommends a hosting provider, it is usually something that you should pay attention to.
WordPress recently made a list of their three favorite hosting providers. Bluehost featured prominently on that list.
These were just a few of the things that we have come to love about Bluehost. Another detail that is worth mentioning is their e-commerce features, which make it simple to set up an online store with Bluehost.
For more WordPress goodness, read our guide to the best WordPress hosts.
What We Do Not like about Bluehost
We want to present as honest a picture of Bluehost as we can. To this end, we are going to discuss some of the things we do not like about this hosting service.
Customer Service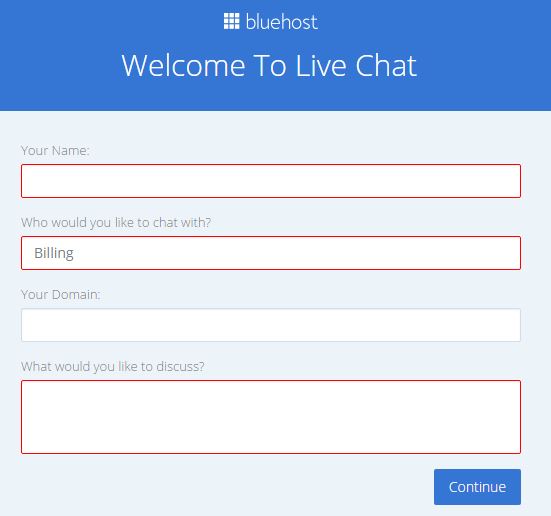 Bluehost does a lot of things well, and we've seen an upward trend in the quality of the services that they offer. However, if you have a problem and you need to get in contact with their customer service, there is no guarantee as to what you are going to get.
Some customers call customer service and get phenomenal assistance. They have positive experiences. However, there are some complaints. Bluehost encourages its customers to contact them on the phone. However, many people have had issues getting through, even if they've called several times.
That being said when you compare Bluehost to some of the other cheap web hosts you'll quickly see that their support is far from the worst. It just has a bit of room to improve.
If handholding support is what you're looking for I'd say stick with Siteground.
You Have To Pay for Site Migrations

A good portion of hosting providers that we have looked at will happily move your site from its current location to its server. For them, it is a relatively simple procedure, and it means that you are going to be their customer for the next few years.
For some reason, Bluehost does not see things this way. They charge $150 to do something on their service that most other services do for free. And if that's not frustrating enough, they will only transfer a maximum of five sites and 20 email accounts.
If that bit of a money grab is not enough, they charge you $80 for a 45-minute introductory walk-through of their services. Most hosting providers would happily give you a free walk-through of their service.
Bluehost Pricing Explained
Bluehost offers five different hosting plans. They include:
Shared hosting
Dedicated hosting
WordPress hosting
VPS hosting
Cloud sites
For most people, the shared hosting plan is more than enough. When you are first starting, you do not know how much traffic your website is going to attract. Dedicated hosting is renting a physical server. WordPress hosting is hosting that's been optimized for WordPress.
Here's a breakdown of the price plans for each.
Shared Hosting (Best Starting Choice)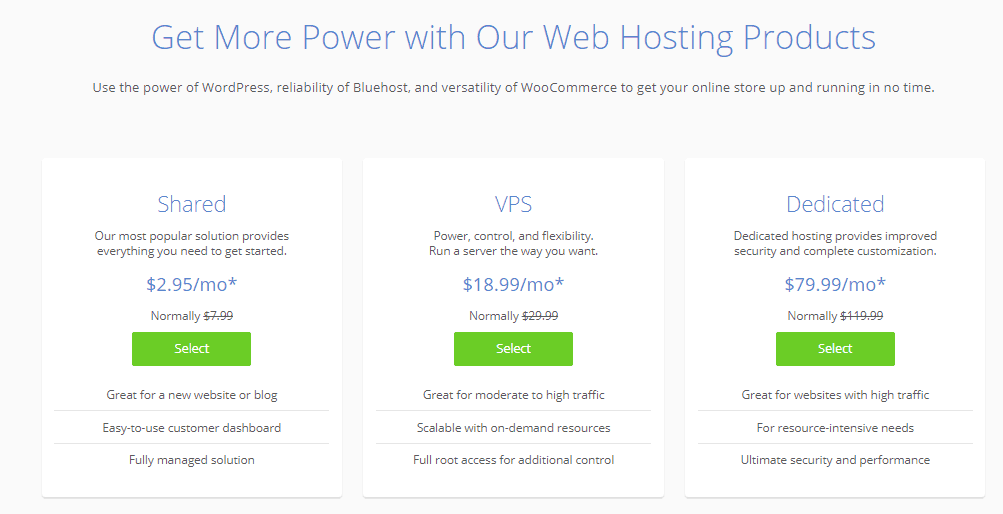 The "Basic" plan starts at $2.95 a month. Then it goes up to $7.99 per month after the introductory period is over. (best for new website owners)
The "Plus" plan is $10.99 per month. (best for long term sites or blogs)
The "Choice Plus" would run you $23.99 a month. (best if you want to make money with your website)
These prices are pretty good, but Bluehost offers several promo deals that allow you to get an even better price. With the "Basic" plan, you get one website, unlimited bandwidth, and 50 GB of space. You are given a free domain, with five parked domains as well as 25 sub-domains. You will also get 100 MB of storage in each of your five email accounts.
The "Plus" and "Choice Plus" plans give you unlimited websites, unlimited space, and unlimited bandwidth. You're given one domain with unlimited subdomains and parked domains. The email accounts have unlimited storage and a few security benefits.
Bluehost offers a "Business Pro" plan. It is a little pricey for the average user, but it does offer several extra benefits, including a premium SSL, domain privacy, and a dedicated IP address.
VPS Hosting (For More Resources /Security)
The "Standard" package starts at $18.99 per month. It eventually jumps up to $29.99 per month.
The "Enhanced" package starts at $29.99 per month and eventually jumps to $59.99 per month.
The "Ultimate" package starts at $59.99 per month, eventually jumping up to $119.99 per month.
From what we have seen, these prices are pretty much what you should expect to pay for VPS hosting. The first two plans have a speed of two CPU cores. The last two plans have a speed of three or four cores respectively. You get 30 GB in the storage on the lowest tier and 120 GB in storage for the highest tier.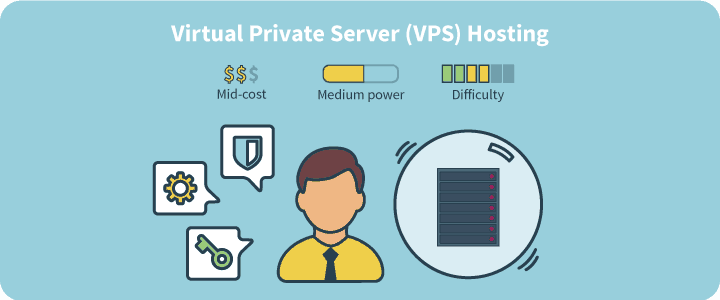 RAM is two GB for the lowest tier and eight GB for the highest tier. You get one terabyte of bandwidth when you purchase the standard package, and that jumps to three terabytes of bandwidth with the ultimate level.
With each tier, you get one domain. With the standard package, you're given one IP address. The enhanced and ultimate packages come with two IP addresses. All of the plans have 24/7 support and a 30-day money-back guarantee.
Dedicated Hosting (For Businesses)
The "Standard" dedicating hosting package is going to start at $79.99 per month and will eventually go to $119.99 per month.
The "Enhanced" package will start at $99.99 per month. It will eventually go up to $159.99 per month.
The "Premium" package starts $119 per month and will eventually become $209 per month.
Both the "Standard" and the "Enhanced" plan comes with 4×2.5 GHz CPU. With the "Premium" plan, you get 4×3.3 GHz CPU. The storage ranges from 500 GB with the lowest plan to one terabyte mirrored with the highest plan. RAM for the lowest plan is four GB with the "Premium" tier giving 16 GB. With the "Standard" tier, you get five TB of bandwidth, and 15 TB of bandwidth at the "Premium" tier.

Each plan comes with one domain. The "Standard" plan comes with three IP addresses, the "Enhanced" plan comes with four, and the "Premium" plan comes with five. As with all of the plans that Bluehost offers, these also benefit from 24/7 support and a money-back guarantee.
See related – best-dedicated hosts
WordPress Hosting (Best for BlogS)
The "Basic" package starts at $2.95 a month if you get a 36-month subscription.
The "Plus" package starts at $5.45 a month if you get a 36-month subscription.
The "Choice Plus" package starts at $5.45 a month if you get a 36-month subscription.
The WordPress hosting plans offer the same technologies as the shared hosting plans we reviewed above. Read more about the best WordPress hosts here.
Bluehost Support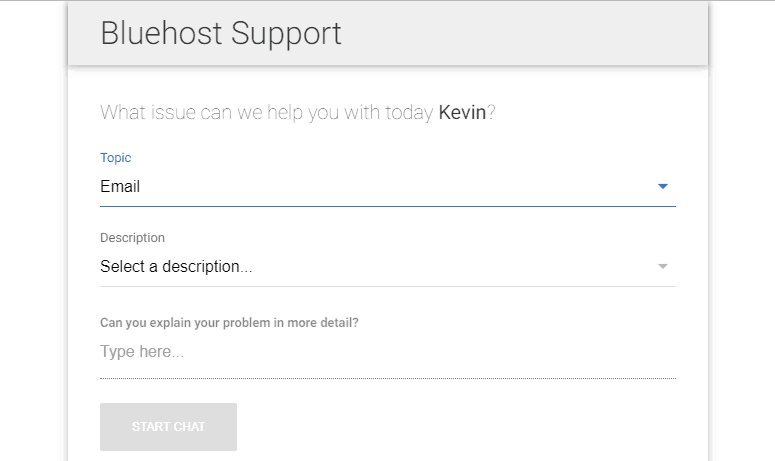 As we mentioned in our pros and cons section, Bluehost's support is a mixed bag. It seems to depend a lot on the day you call and who you end up interacting with. Sometimes you will get your phone call answered right away and will find yourself interacting with a knowledgeable tech support customer assistant. At other times, your phone calls may not get answered or it may feel like individuals interacting with you have less of a clue about what's going on than you do.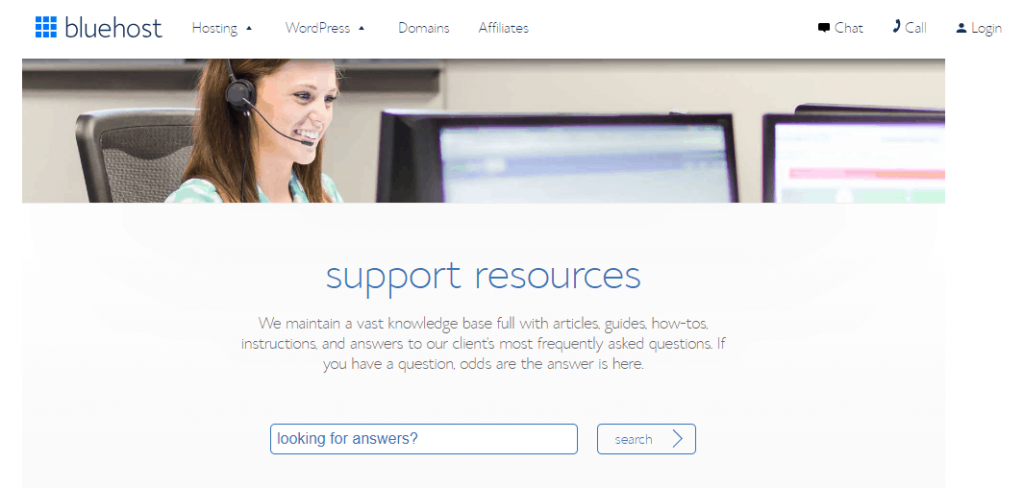 In addition to phone support, Bluehost offers a ton of support resources. This includes a knowledge base that has articles, guides, how-to instructions, and answers to their most frequently asked questions. This is a well-supported knowledge base, so there is a good chance that you will be able to find the answers to the questions that you have.
The "Education Resource" is a great way for users to become familiar with the different aspects of their site, including log in management, domain names, email, WordPress, etc.
If you have questions about anything else that you cannot find in the knowledge base, they invite their clients to call them using their 24/7 helpline.
The Verdict – We Like Bluehost
Bluehost is perfect for anyone who is starting. They are one of the oldest web hosts and have years of experience and a good reputation behind them. They offer cheaper pricing while simultaneously providing high-quality. They have several online resources that are designed to make the setup process easy.
There are several exciting features and extras offered to clients regardless of the price point. The diversity of available plans makes it easy for you to find the package that meets your budget and needs.
For the most part, our impression of Bluehost is a popular view. It would be nice if they would migrate your site for free and if their customer service was less hit and miss. However, we do think Bluehost is a great choice for web hosting and easily makes it onto our list of best web hosts.
Thanks for stopping by guys. Please feel free to leave a review below.