About On Running Shoes
Running reminds me that even in my weakest moments, I am strong. On Running is dedicated solely to the run, offering shoes, gear, and accessories.
Featured in The Wall Street Journal where it was acclaimed that, "On combines the best of a traditional and minimalist running shoe while staying exceptionally light," On's products have seen much praise.
Along with a 500k following on Instagram, the brand has won more than one international design and technology award including the ISPO Gold Award for the Best Performance Shoes.
In this On Cloud Shoes review, I'll explore everything about the brand and its products, along with customer ratings, promotions, and more, to help you decide if their products are worth a run.
Overview of On Cloud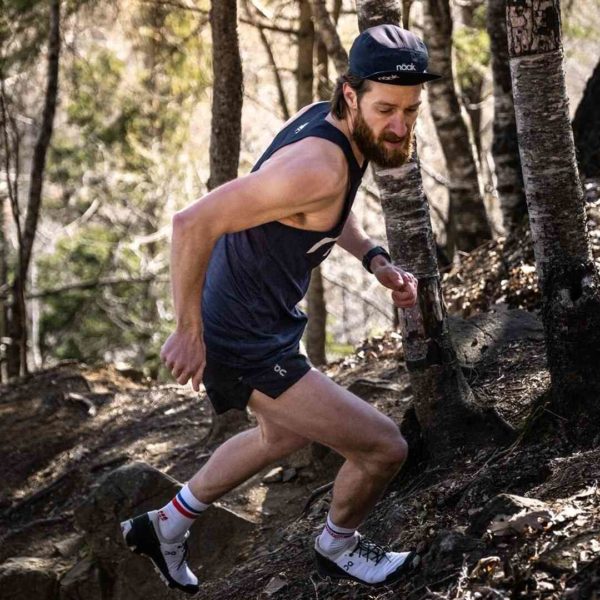 On Cloud sneakers were created in 2010 in the Swiss Alps by David Alleman, Oliver Bernhard, and Caspar Coppetti.
Their goal was to revolutionize the sensation of running based on one radical idea of soft landings followed by explosive take-offs or as the brand would call it, 'running on clouds'. I've learned that the right shoes can totally change your stride and pace1, so running on clouds sounds pretty great.
Today, you can buy On running shoes at over 6,500 premium retail stores in over 50 countries. The brand has provided running shoes to over 7 million runners worldwide. That's really saying something.
On sponsorships include partnerships with professional athletes like Frederik Van Lierde and their commitment to sustainability. I read that some shoes are even made using castor beans while others boast 75% recycled polyester.
I personally like the brand's subscription in which running shoes can be returned and an all-new pair is sent back. I'll get more into this cool option later.
On's headquarters are located in Zurich; however, they also have a head office in Portland, Oregon which happens to have some pretty stellar running trails.
So what's next for this On cloud shoes review? Let's take a look at the highlights of the brand first, then launch into its best-selling styles.
Highlights
High quality and comfortable running shoes and socks for a variety of runners' preferences
Wide variety of shoes, gear, and accessories
Positive reviews about the diversity of the brand, fast shipping, and shoe comfort
Home Try-On option with 30-day free returns
Frequent promotions and discounts
New pair of shoes provided after old ones are worn out
Free shoe recycling service
Products are available at multiple retailers worldwide
Some free international shipping and no customs charges
Free returns to most countries
I exercise often to stay in good shape and maintain my health2, but the key to exercising properly is ensuring it's done in a safe and effective way for the whole body.
Shoes are one essential factor that often goes missed or misused—I know folks who have had the same pair for 5+ years which is a big faux-pas in the world of running. On is looking to change all of that.
Next in this On cloud shoes review, I'll will go through the best-selling running shoes and socks to help you find your next pair.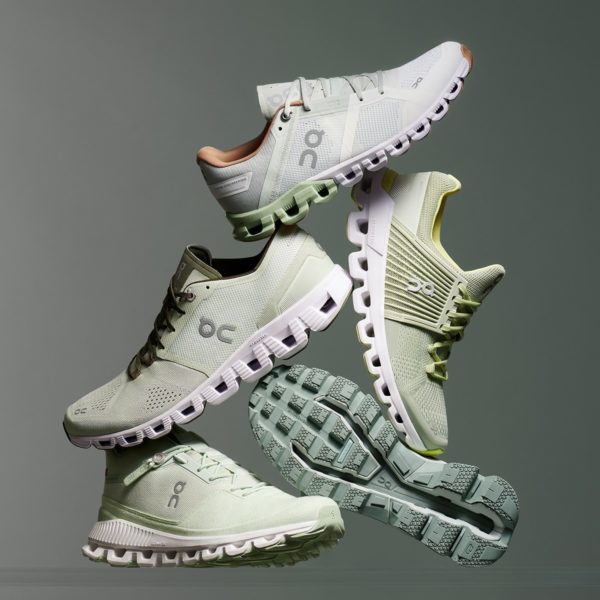 On Men's Sneakers
Just below in this On cloud shoes review, I'll delve into the brand's best-selling men's sneakers. Whether you like to run on the street, in the great outdoors, or even on a treadmill, the most important tool needed for cardio is shoes.
On cloud running shoes allow each user an option to keep running safely and smoothly whether sprints, bikes, or even HIIT3 is their thing.
On Cloud Waterproof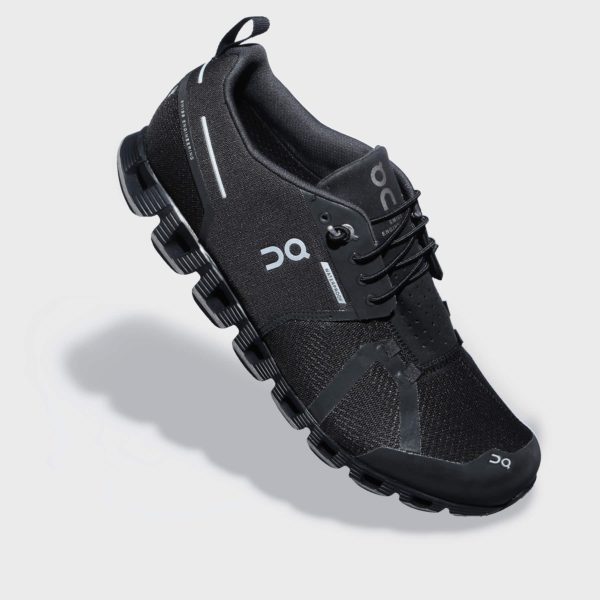 Rainy runs4 can be some of the best, but soggy, sopping shoes can ruin the joyful ride. I'm not a big fan of sloshing in my shoes (is anyone?) so if you find your runs frequently wetter than they are dry, I suggest looking into a waterproof shoe.
The Cloud Waterproof is a shoe made for all-day performance. Made from zero-gravity foam and CloudTec to provide soft landings, it also ensures superior grip.
A speed-lacing system allows your foot to slip in and out with ease but keeps the shoe firmly in place on the move. Plus, the 100% waterproof nature of the shoe will keep your feet dry in rainy conditions.
Don't let the weather stop your exploring! Available in Black, Forest, and Storm, the comfort and practicality of these shoes make them perfect for different kinds of urban adventures in all conditions.
The Cloud Waterproof shoes are available for $149.
On Cloud X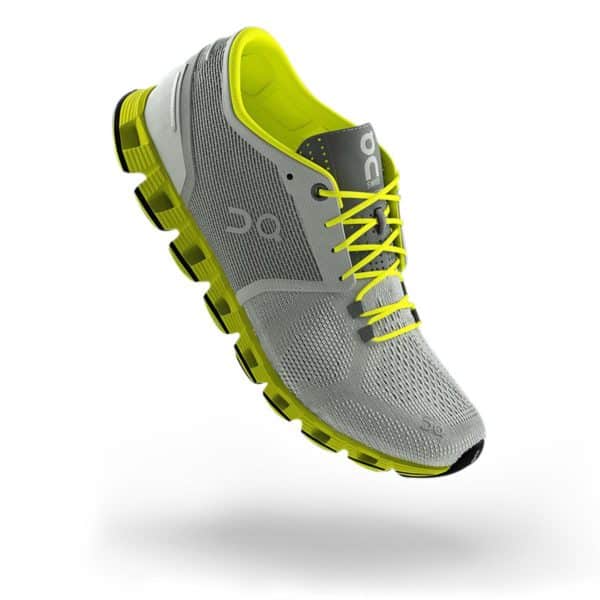 Springy shoes are incredibly helpful on hilly journeys. In my experience, they're the difference between slowing down or totally crushing a climb.
The Cloud X can be summed up in three words: stability, agility, and versatility. This sneaker is a reactive and dynamic shoe made with Helion super foam for explosive movements.
The shoe features molded cushions for mild security and the Speedboard energizes every step. Flexible and tough, this model also features a weaved pattern for durability and breathability.
Meet your new pair of shoes for training with the Cloud X, made for those who need shoes that can handle all types of cardio and fitness.
Lightweight and able to take on harsh intervals and workouts, this shoe feels comfortable and up to the task on the street, track, and in the gym. Get the Cloud X available in 5 color options for $139.
On Cloudflow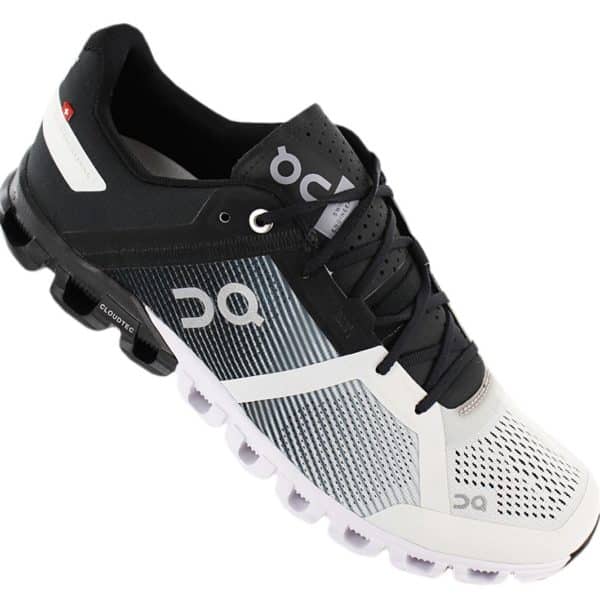 Not a fan of clunky runners? Me neither. Meet the newest lightweight, fully cushioned racing shoe from On that may just exceed any running shoe you've had before.
The Cloudflow model is made from 18 Adaptive Cloud elements, Helion Superfoam, and a re-engineered Speedboard that when combined can help turn impact into acceleration.
The shoe features an impressive hold, durability, and comfort level with a lightweight and reinforced design to support tired feet. They also include zoned ventilation to allow for proper airflow.
The Cloudflow is the second generation of the podium-topping, record-breaking shoe loved by elite athletes. The shoe offers the smoothest of rides, the softest of landings, and the most explosive of take-offs.
Get more comfort, kick, and speed with the Cloudflow that are available in five colors for $139.
On Cloudswift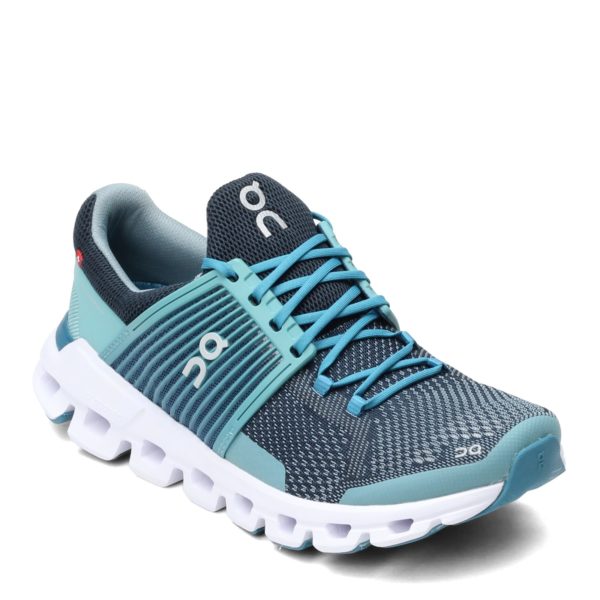 I don't have to tell you that road running is tough on joints. The Cloudswift allows you to run around the city in a light, swift shoe with full road protection. Made from Helion super foam for supreme cushioning with zero compromises.
These running shoes are engineered for urban running as they're light on weight but big on energy return and durability. I appreciate that they are also temperature resistant, providing the same unrivaled performance in both hot and cold conditions.
The breathable mesh also keeps your feet cool even when on-the-road temperatures soar. The city can be a tough place to run but the Cloudswift is tougher!
From a swift 5k at lunchtime to a cross-town commute, you'll feel the difference when you hit the streets wearing these shoes. The Cloudswift is branded with the iconic On logo, comes in six colors, and retails for $149.
On Cloud Womens Shoes
For this next section in my On cloud shoes review, I'll move on to the bestselling women's sneakers. Any woman knows that shoes are true assets in aesthetics, confidence, and most importantly, movement.
On strives to create women's shoes that not only look great but also allow for freedom of movement, protection, and breathability so the modern and active woman can stride freely and confidently. Let's check them out.
On Cloudstratus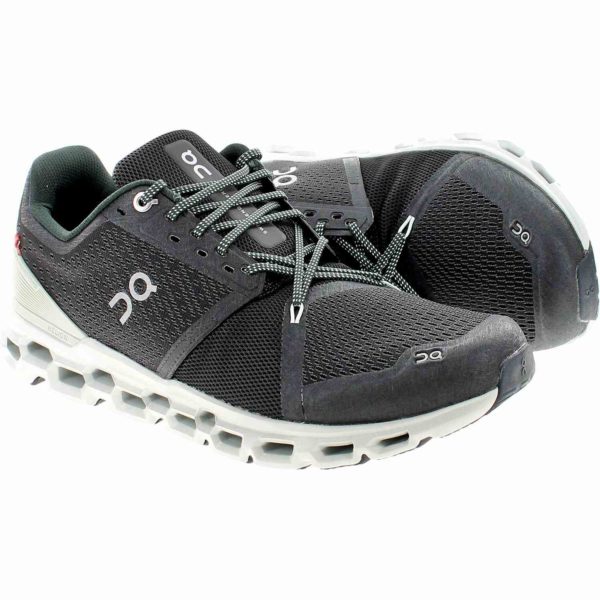 A new and improved version of the initial On Cloud 2.0, the Cloudstratus now delivers the ultimate cushioning experience. The shoe provides a double layer of CloudTec, meaning more clouds, more performance, and more run.
Thin, barely-there sneakers may be fine for the track, but if you're taking your run to the streets, I'd suggest choosing something with a little more cushion.
While these sneakers feature maximum cushioning, they also stay responsive and offer additional support that doesn't stifle speed.
The mesh is designed asymmetrically with movement in mind. Soft and firm, they're optimized for comfort and breathable airflow. The shoe also features a star lacing configuration, wrapping the foot for a secure fit to support your natural motion.
Where your foot flexes, the shoe flexes, too! The Cloudstratus comes in five vibrant colors to complement any workout outfit and can be your next go-to running essential for $169.
On Cloudflyer Waterproof
Remember those soggy feet I talked about? The Cloudflyer Waterproof is a next-generation shoe that won't let you down on wet runs. With a wider outsole and more plush tongue than the average running shoe, the lightweight cushioning and Helion super foam provide cloud-like comfort.
Other features of the 100% waterproof shoe include a bespoke Speedboard and a 3D-modeled heel. From these specifications, it is obvious that these shoes are all about comfort and stability.
Want more? The shoe also features reflective details in the heel, forefoot, and laces that light up at night to keep you visible.
The Cloudflyer Waterproof is designed to lock the elements out so you can put the work in, no matter the conditions. Run day or night, rain or shine as these shoes can be with you every step of the way for $179.
On Cloudsurfer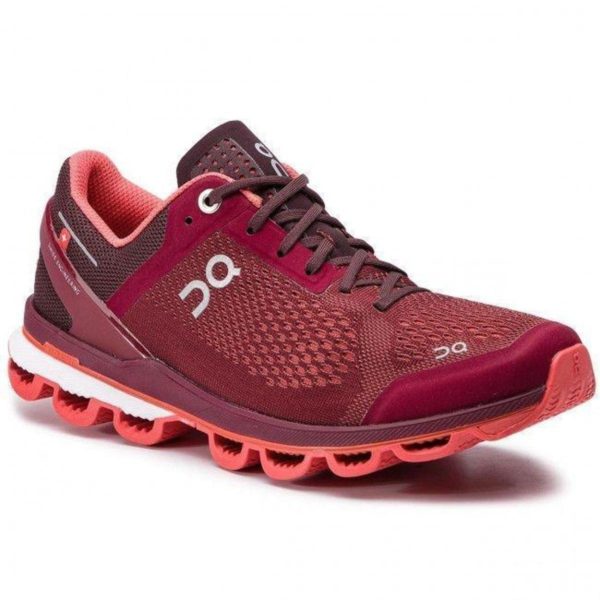 I'm a big fan of breathable, lightweight shoes, but most of them don't have the support or cushion to match. Then I met the Cloudsurfer.
The Cloudsurfer is training-shoe comfort meets racing-flat speed. These shoes feature a double layer of EVA foam and CloudTec for super-soft landings and a powerful take-off, while the Rebound-Rubber Clouds provides a responsive ride.
The original Cloudsurfer brought running on clouds to the world and this fourth iteration evolves that revolutionary feeling. Like the name, just as surfboard shapers craft their boards, the shoe is designed for the perfect ride, flexing to fire you forward.
The Cloudsurfer is available in two bright colors, Coral and Glacier, and retail for $149.
On THE ROGER Clubhouse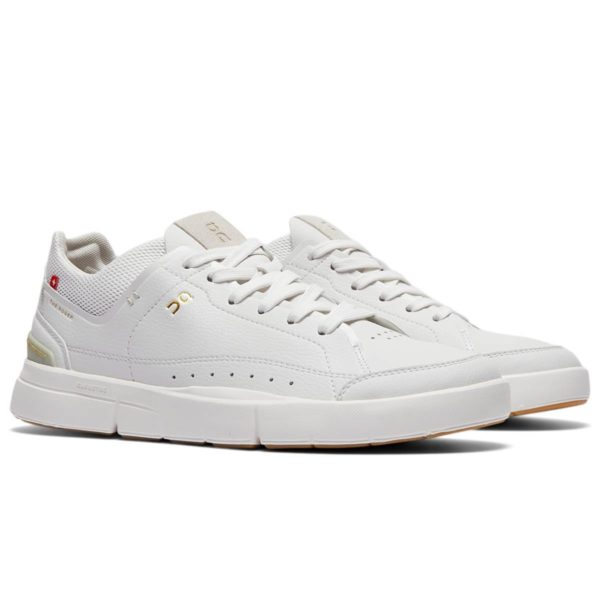 On features some great Roger Federer shoes, including THE ROGER Clubhouse! I love the tennis-inspired, street-ready styles of these shoes that were developed with Roger Federer.
Emitting both style and performance, the hidden Speedboard makes every step feel lighter, whereas the CloudTec cushioning makes the harshest of sidewalks feel soft. This is the shoe you wear to keep winning long after the game is done.
The one-of-a-kind sneaker also features a unique colorway with gold detailing for a clean yet bold look along with 6 other eye catching designs. The ROGER Clubhouse retail for $150.
On Accessories
Lastly for this part of my On cloud shoes review, I'll take a look at the brand's bestselling accessories. What is the ultimate partner to any running shoe, you ask? The proper socks to help keep your feet dry, comfortable, and secure while you take on your workout.
The accessories that I'll feature ahead in this On cloud shoes review include the Low Sock, the Mid Sock, and the High Sock, so you can shop by preference without compromising effectiveness.
On Low Sock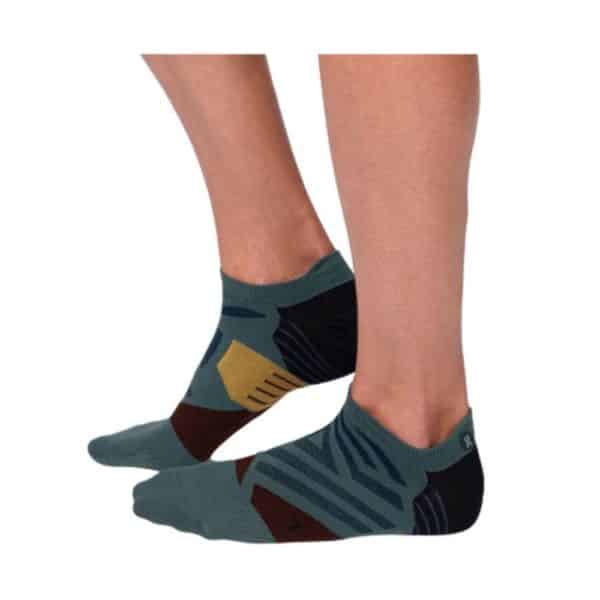 Normal, cheap socks don't cut it on runs. Bulky, too thin, or without staying power, I've known a few pairs to slide off my heel during the first few strides.
Simply put, the Low Sock was created for understated comfort. While a running sock4 might not win you a race, it could be the reason you lose.
The Low Sock pattern at the arch triggers sensory receptors to prime your feet for running. Also, Swiss engineering keeps the sock firmly in place.
The added mesh embedded in the sock helps keep foot temperatures in perfect balance as it cools when things heat up but stays warm enough so won't experience cold feet, no matter what you're about to take on.
These socks merge an ultralight minimalist design with anatomical shaping for gentle support. The Low Sock is available in four colors for $18.
On Mid Sock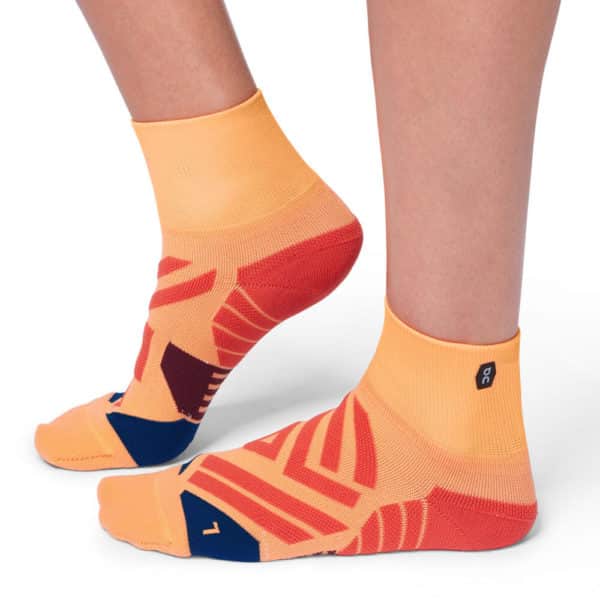 Bad socks have cost me good runs. That's why I think they're something worth investing in.
The Mid Sock balances the feelings of protection and performance, developed with a specialized arch that triggers sensory receptors and features special Swiss engineering to keep them firmly in place.
The Mid Sock is lightweight and breathable, yet snug with subtle support. The technical mesh also regulates temperature and the ideal height keeps you feeling protected and enhances your performance.
I think the Mid Sock will make you want to extend your run with comfort that keeps on going! These socks come in four vibrant colors allowing you to personalize your desired running look. Grab a pair of these performance-inducing socks for just $20.
On High Sock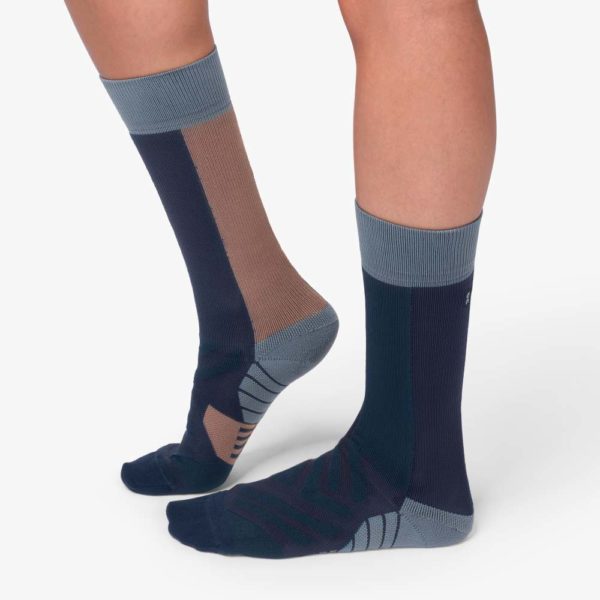 High socks offer light calf compression that low socks obviously can't. The High Sock is a standout performance running sock that makes a statement and shows the world you're ready to take on the miles.
These socks feature mesh that regulates temperature, anti-slip technology, and a design that activates sensory receptor triggers.
The sock's lightweight protection has you covered for everything from a chilly morning commuter dash to an epic off-road adventure. The result? A performance that will get you noticed.
The High Sock is available in three funky, standout designs for $22. I'm a big fan of the navy/dustrose design.
On Running Pants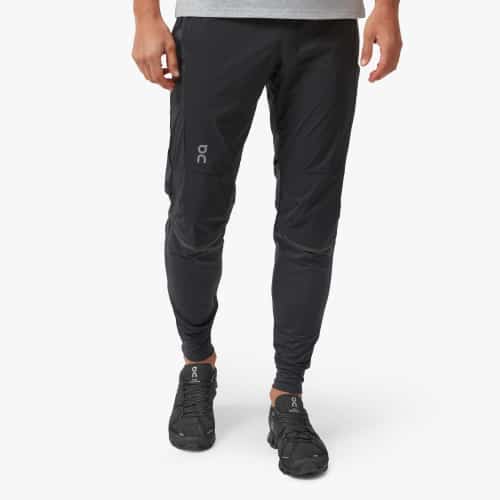 Although the brand loves to boast about its stunning collection of running shoes, I was excited to find that's not all it has to offer for your sportswear needs.
These black Running Pants from On offer ventilation, ample movement, and durability through all of your intense reps. Made with:
PA-ripstop fabric
Four-way stretch
Comfort waistband
All of these come together to offer UV protection and water resistance for working out in all weather conditions. Added protection in the knee mesh also means you can rely on these pants to keep you bruise and scuff-proof when that hidden root pops up from out of nowhere on the trail.
Need more? These Running Pants also have you covered to ring all the essentials on your run or to the gym. I'm an advocate for pockets, and you'll have two to keep your items safe and secure. Smart features like ankle-zippers can be adjusted for more or less movement.
Unfortunately, these pants are not currently available on the brand's website, but you may be able to track them down elsewhere.
On Subscription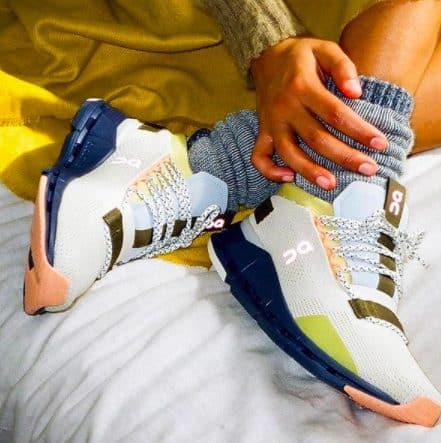 Running shoes don't last forever. I know that, you know that. But On has dedicated themselves to sustainability and keeping your old running shoes out of landfills and in their recycling program.
By signing up for the On Subscription, the brand will send you your own pair of Cyclon runners. You'll pay $35 per month, and when your shoes wear out, the brand will send a new pair after your old ones are returned in the box your new shoes came in. It's a simple yet genius service that benefits you and On.
So what happens to your old runners? They'll be used to create more running shoes, keeping them out of the garbage so they can keep running… in one form or another.
What Are On Cloud Shoes Good For?
Certain designs are meant for casual wear or walking, whereas others are specifically meant for running. Be sure to read up on the pair you're interested in. While there isn't harm in wearing running shoes for running errands, you probably don't want to run in some of their more casual styles.
On makes a variety of shoes specifically for running, though each one is tailored to a different purpose. For example, the Cloud X 3 is great for all-purpose training, whereas the Cloudrunner Waterproof can't be beat for rainy runs.
Are On Cloud Shoes Good For Running?
To put it simply: On Cloud shoes were made for running. Crafted with a highly adaptive sole that reduces muscle fatigue and lowers your heart rate, when you run, you'll use less energy. Here's a peek at the tech you'll find throughout the line:
CloudTec® cushioning in Zero-Gravity foam
Lightweight & breathable antimicrobial mesh
Multi-directional cushioning that responds to your unique movements
What are the most comfortable On Cloud shoes?
With a name like On Cloud, it's safe to assume this brand makes some seriously comfortable shoes. Designed with CloudTec® cushioning, you'll notice a difference between them and other brands of running shoes. A few of their most comfortable designs include:
Cloudstratus 2.0 – This style has the most cushioning out of all in the collection and is soft, springy, and bouncy
Cloudrunner – Provides a unique comfort sensation with s soft landing that's perfect for road runs
Cloudflyer 4 – Built with supreme cushioning for long runs and training
Why Are On Cloud Shoes So Popular?
You've read a bit about the tech inside On Cloud shoes, and while people surely gravitate towards the line because of how comfortable their sneakers are, they're also keen on a handful of other features.
Style. On Cloud shoes look like they're ready for business, with a sleek style that's authentically On.
Speed Lacing System. Ever had to stop mid run to re-tie your shoe? Folks love the option to never have to tie their laces again.
Recycled Materials. On Shoes are made with a high percentage of recycled materials.
Lightweight. Supportive running shoes tend to be big and clunky, but not On's. Thanks to CloudTec® cushioning, you can have all of the comfort without the majority of the weight.
On Reviews: What Do Customers Think?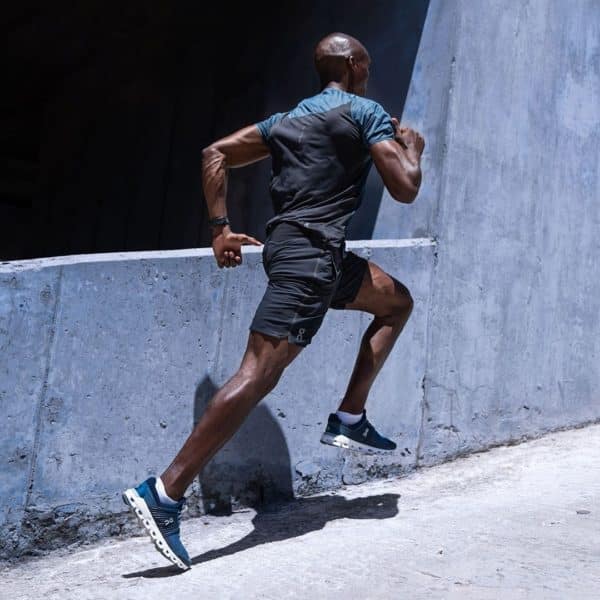 If you search for On cloud shoes reviews online as I did, the results will show many fervent and loyal customers to the brand.
Customers are choosing On sneakers over more "well-known" brands and applaud the company for the:
Level of comfort
High-quality
Variety of styles
Price
Customer service
Fast shipping
Firstly, Running World, a site dedicated to providing advice on buying high-quality sportswear, reviewed the brand for its practices, products, and sustainability and was overall impressed with the brand.
What was especially noted in this review was how the shoes were constructed thoughtfully and with many redeeming features.
In each individual product from the brand, the review spoke favorably about how the shoes work and how they are meant to be worn. Most notably, the review loved the Cloudflyer and their in-house tester even stated:
"The ride in this shoe is up there with the best tempo shoes I've worn—you get a quick turnover and springy liftoff."
Another review from The Sports Edit, a site dedicated to promoting high-quality sportswear, agreed with the sentiments from Runner's World.
In their review of the brand, after evaluating a few of the brand's best sellers I found applause for the shoes' construction, the versatility of use, and reliability. At the end of the review, the brand made their conclusion:
"Overall we found the last on all three On models we tried, the Cloud, Cloud X, and Cloudflow, to be very comfortable. … The slightly narrower shape is also more pronounced in the back of the shoe, and they do splay out in the toebox to ensure more space and comfort."
Looking into the brand on Trustpilot, I read how one customer noted they'd never buy from another sneaker brand again. "I've had surgeries on both Achilles and struggled to find a comfortable shoe both pre-surgery until I found OnCloud. I can't begin to describe how comfortable and supportive they are."
Another buyer on Trustpilot complimented the diversity of the brand. "The cloud is the most comfortable shoe for all activities. They are lightweight, versatile and stylish. I love my shoes and can't wait to get another pair!"
The most common complaint I found among customers is regarding On customer service. Many have noted that they've reached out to the customer service team only to be ignored for weeks.
There are also alleged problems with shipping delays and receiving refunds for returns. Though situations like these aren't fun, I've seldom come across a brand that doesn't have them. I take all reviews seriously, but in On's case, the good far outweighs the bad.
Is On Worth It?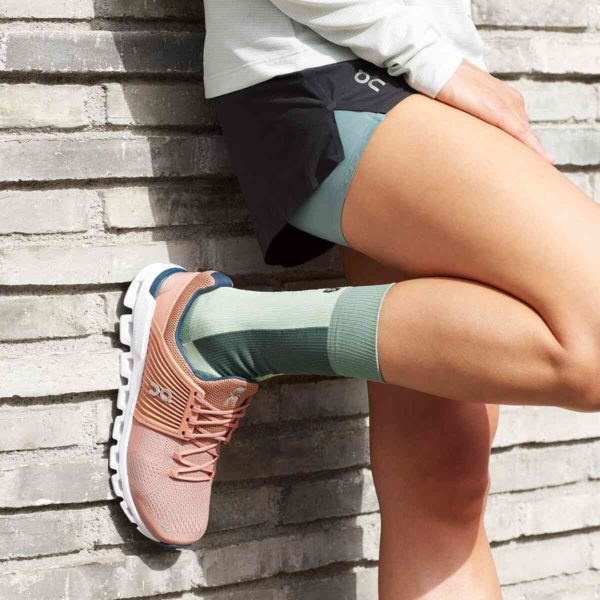 Are On running sneakers worth it? I certainly think that their products are worth buying. While researching for this On cloud shoes review, I discovered that the brand is incredibly innovative and creative and for every negative review, there are hundreds of positives that prove these reviews wrong.
I'm a fan of the fact that On's new releases are always stepping up the game and innovating the way we exercise. The shoes are also reported to be the most comfortable shoes you will ever wear, with many swearing off other brands altogether.
Also, the brand has On backpacks that could pair nicely with your runners, plus a selection of other lightweight bags and accessories that you can run off with. Regular backpacks aren't made for running, so I found this detail quite appealing.
They also offer a Home Try-On, which essentially is the brand letting you try on the shoes for 30 days, commitment-free! In other words, the question of 'are On shoes worth it?' has an easy answer.
On truly believes in creating shoes that will only enhance your performance, whether you're an elite athlete or enjoy taking casual evening strolls.
No matter your level, my verdict in this On cloud shoes review is that you can rest easy knowing their products are top-notch quality.
On Promotions & Discounts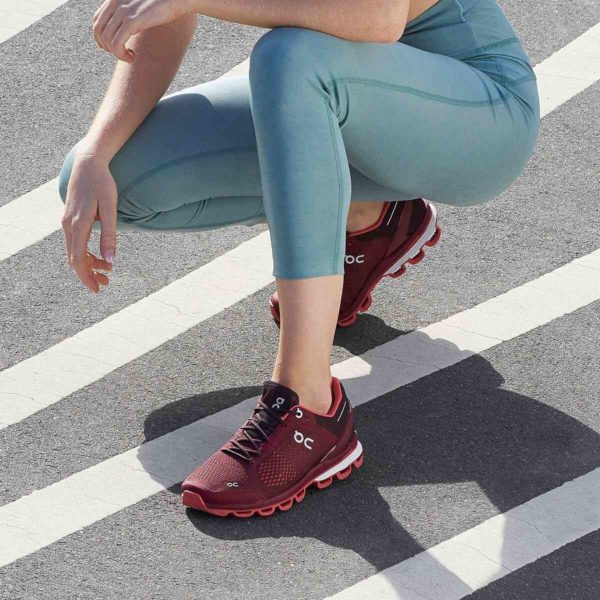 At the time of this On cloud shoes review, I read that if you refer a friend, they'll get 10% off their first order and you'll receive an On running promo code for 10% off, too.
I also found that if you add two pairs of socks to your basket, you can get one of them free when you use code: yayfreesocks.
During the wake of the COVID pandemic, the brand was dedicated to their On Cloud Shoes Healthcare Discount, but unfortunately, the brand has discontinued this promotion. Keep checking the brand's website for more information about this offer.
Where to Buy On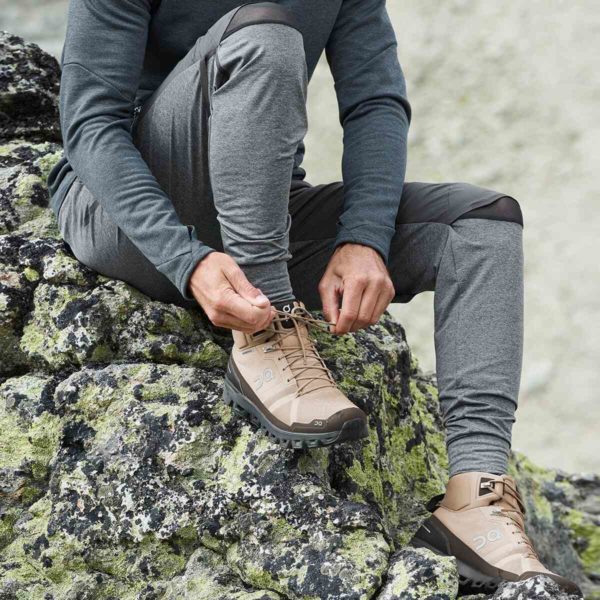 On has store locations worldwide. To find the nearest location to you, visit the "Where to Buy" section of their website. I also saw that On sneakers are also available on Amazon. However, for the best selection, be sure to visit On-Running.com.
FAQ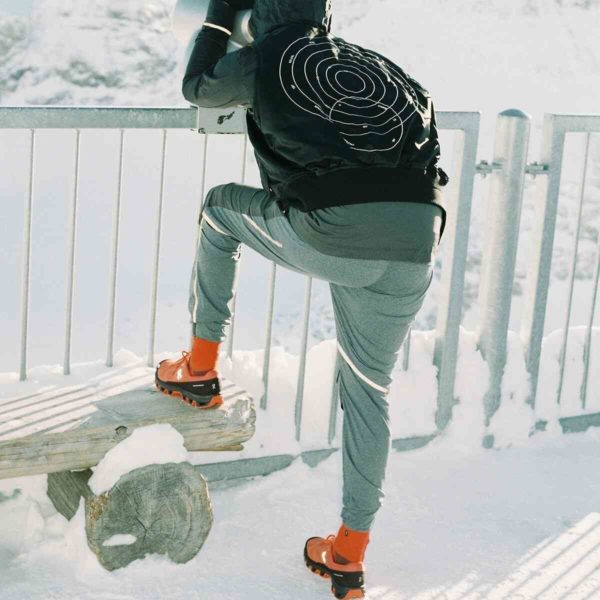 Where is On from?
On is from Switzerland.
Where are On Cloud shoes made?
On designs its shoes in Switzerland but manufactures them in Vietnam and China. To learn more about their factories, head to On-Running.com and go to their 'Transparency' page. They're incredibly transparent about their manufacturing process and give you an inside look at who they partner with.
Are On shoes good for running?
Now that we've seen some feedback, it's even more clear that based on customer reviews, elite athletes, and the numerous awards, On shoes are great for running.
What sizes does On have?
Getting the right fitting shoe is an integral part of having a great run. I've included the size charts for both men and women below:
Men's Shoe Size Chart

Women's Shoe Size Chart

What is On's Shipping Policy?
On ships to over 50 countries worldwide. I read that On offers free shipping and covers any customs charges to most countries, however, shipping costs will occur if you reside in India, Indonesia, Israel, or Malaysia.
If the order doesn't meet the minimum order value to qualify for free shipping, the cost will be displayed at checkout.
According to On, the answer to shipping times is "as quickly as possible". Depending on location, shipping should take 1 to 6 business days.
On will send a tracking link in a shipping confirmation email. To check the order status, go to the "Order Tracking" section of their official site.
What is On's Return Policy?
To initiate a return, fill out the Return/Exchange Form. Next, there are two options:
Extended Holiday Returns: You have 30 days to return/exchange unworn items in their original packaging. This option allows gifts to be returned or exchanged.
Home Try-On returns: You have 30 days to return/exchange items you've tried out in your home.
On offers free return shipping to most countries. If you wish to exchange for a different size, you must fill out the Return/Exchange Form on the site and send the unwanted item back to On. The new item will be sent out in 10-14 business days.
If you want to exchange an item for a different color, return the original order and place a new order for the color you desire. On will refund the original order amount within 14-21 days of receiving the return.